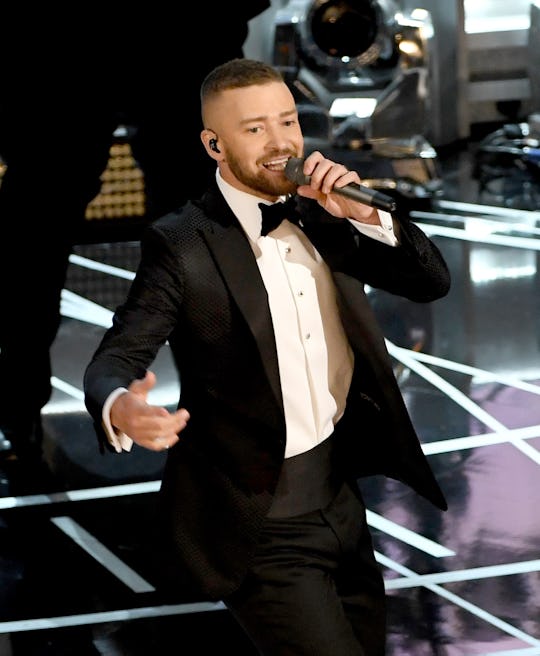 Kevin Winter/Getty Images Entertainment/Getty Images
This JT Oscars Moment Will Make Your Heart Melt
The musical performances are some of the best parts of any awards show — especially a high production value event like the Academy Awards. When it was announced that Justin Timberlake would be performing his Best Original Song nominee "Can't Stop the Feeling!" from Trolls at the ceremony, viewers were definitely excited. But as it turned out one particular moment from Justin Timberlake's Oscar opening number was totally swoon-worthy and will surely go down in Oscars history.
On the Oscars red carpet, host Ryan Seacrest hinted (during his conversation with Timberlake and his wife Jessica Biel) that he'd heard the former NSYNC member's performance would be the awards show's big opening. Biel and Timberlake remained mum on that, but it was clear from their reactions that the performance would be something to look forward to.
Soon enough, the show started and Seacrest's hint was right — Timberlake opened the show with his Trolls song. But it was equal parts musical performance and impromptu dance party, with a troupe of back-up dancers leading the way. Timberlake's infectious energy managed to get most of the audience dancing too. The singer-actor called out specific audience members, like Denzel Washington, and danced a bit with actresses, including Halle Berry. But by far the cutest moment of the performance was when Timberlake found his wife in the audience.
As he was singing, Biel made her way into the aisle from her seat and danced along to her husband's song — something I'm sure the two have been doing for months now, given that they have a toddler son Silas Randall who's at the perfect age to enjoy the kid-targeted song. (Fun fact: Timberlake has even said that he wrote the song for his young son, inspired by his new experience as a father.)
Of course, Timberlake (who also voiced the lead character in the animated film, opposite Anna Kendrick) quickly managed to make his way to his wife. They shared a few happy moments dancing together, in what's sure to be one of the ceremony's cutest moments (if not the single cutest moment of all). It's not clear whether Biel planned to make her way into the aisle to share that super sweet moment with her husband or if it was spontaneous, but it definitely felt spontaneous and adorable.
These two have long been one of the Hollywood marriages that personify #CoupleGoals. Earlier in the same evening, on the pre-show red carpet, Timberlake remarked that his wife's golden, sparkly dress was perfection. They even shared a playful moment when the Best Original Song nominee cutely photobombed his stunning wife on the red carpet. You can really feel the love between these two!