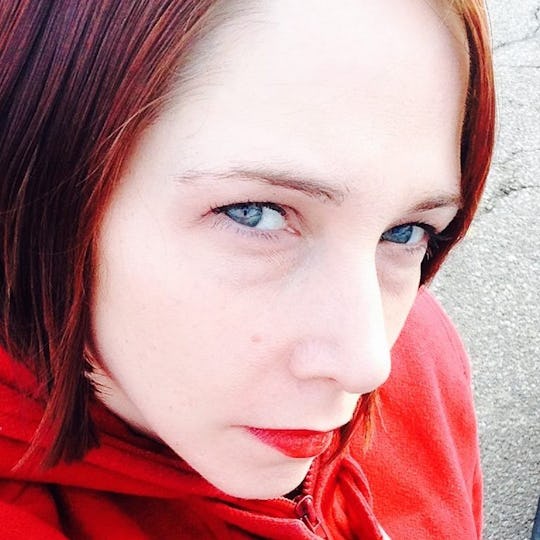 Courtesy of Steph Montgomery
I Wish People Would Stop Using The Phrase "Birth Rape"
As a sexual assault survivor, I find the idea that someone would use the word "rape" to describe anything other than sexual violence horrific. So when I was scrolling through my Facebook feed and found a meme calling for a new #MeToo movement for what many "natural birth" communities call "obstetrical rapes and assaults," I was filled with anger, shame, and anxiety. I read the comments, wanting to respond, but couldn't keep my hands from shaking as I fought the urge to vomit. Using the phrase "birth rape" to describe traumatic births hurts survivors like me, and I think it's time we talk about it.
Seeing the word "rape" used to describe something that is not rape feels so invalidating — as if the trauma I endured didn't actually happen, or wasn't life-altering in every sense of the word. And while I know that birth can absolutely be a traumatic experience for a number of women — according to a report published in the journal BMC Pregnancy and Childbirth, women can experience psychological trauma during birth as the result of "prioritizing the care provider's agenda, disregarding embodied knowledge, lies and threats, and violation" — the words we use matter. If we use the word "rape" to describe any other experience, however terrible that experience may be, the word no longer means what we know it to mean.
Almost one-third of all rape victims develop post-traumatic stress disorder (PTSD), according to the National Violence Against Women Prevention Research Center, and rape victims are 6.2 times more likely to develop PTSD. Reading the word "rape" triggers memories of my assaults. And while I've learned to endure the word when it's appropriately used, because I want to support other survivors in speaking out, my ability to work through those triggers lowers substantially when the word is used in another context, whether it be a joking matter or to describe something that is not, in fact, sexual assault.
It also took me years to acknowledge that what happened to me was rape, and even longer to say the word "rape" out loud. Before I came to terms with what happened I would use just about any other word to describe the trauma I endured, as if calling it something different would make it go away. So to see the word used to flippantly, even when describing something very real and important, is to see my rape diminished, my pain minimized, and my continued healing threatened.
And again, it's not to say that I am dismissive of birth trauma and how a negative birth experience can impact a mother for weeks, months, and even years. I was shamed by my midwife for having to have an induction, had my requests for pain medication delayed and denied multiple times, and was ridiculed when I begged for an epidural. When the midwife was stitching up my perineum I told her I could feel it, but she dismissed my pain and, instead, joked about the state of my vagina with my then-husband.
The invalidation didn't end after my child was born, either. A postpartum nurse grabbed my nipple to check for colostrum without my consent. Another nurse dismissed my repeated complaints of a headache, telling me I was just anxious and content to just repeatedly offer me a sedative. Turns out, my headache was a sign of postpartum preeclampsia. Make no mistake, I could've died because of her lack of training and arrogance.
When I think back on that horrible three-day period of my life — a time that should have been joyous — I remember feeling shamed, pressured, invalidated, unheard, and harmed by health care providers. I felt violated, I felt negated, and sometimes I felt invisible... but I would never describe my traumatic birth experience as rape. Because it wasn't.
Undoubtedly, there are terrible medical providers who do horrible things to their patients and against their patients' wishes. I absolutely believe that birthing people suffer through medical procedures without their consent and other trauma at the hands of well-meaning or intentionally cruel doctors and nurses. After all, it happened to me. But I consider those instances to be situations of medical malpractice, human rights violations, and in some cases even assault. Not rape.
Birth activist Amity Reed describes "birth rape" as "little recognized crime" that "many mothers" experience. Reed goes on to argue that even more so than "regular" rape victims, "these women feel they won't be believed and will be ridiculed." She compares obstetric providers to rapists, claiming they deliberately harm women and other laboring people because our medical system is broken. And while the maternal mortality rate in this country is abysmal, and disproportionally impacts black women and women of color, this unfair characterization of all OB-GYNs minimizes the complex issues plaguing our health care system. The problem goes far beyond the doctors that dismiss their patients' wishes, so demonizing all OB-GYNs does little — if anything at all — to aid birthing women.
I don't think anyone should ever be forced to endure a medical procedure they didn't consent to. I believe every person should feel safe reporting mistreatment during birth. I also think that we need to work to ensure that hospitals treat all laboring people with respect and dignity, which is sadly not always the case.
But we can talk about these issues without co-opting the word rape, or attempting to equate these experiences, however terrible, with being raped. We can believe mothers and their stories of birth trauma while simultaneously acknowleding that what they experienced wasn't rape. We can champion, support, and advocate for better birth practices that will ensure women have positive, and not traumatic, experiences, without equating birth trauma to a devastating invalidation one in five women will endure in their lifetime.
I felt empowered by the #MeToo movement to speak out and support other survivors of rape and sexual assault, which is why it's so triggering and disheartening to see the movement co-opted... even if everyone involved has the best of intentions. In my opinion, describing birth trauma as "birth rape" dilutes the momentum we, as a culture, gained over the past year when facing systemic gender-based violence and sexual assault head on. I believe it overshadows the amazing courage of survivors standing together and shedding light on the prevalence of sexual violence and rape culture.
I absolutely believe that we need to start talking about birth in a real and unfiltered way. I believe we need to start holding obstetric professionals accountable when they hurt laboring people. I believe we need to spend the money to train OB-GYNs to better support parents during pregnancy, birth, and beyond.
I also believe we can do all of the above without using the word "birth rape" and, in the process, hurting survivors like me.
If you or someone you know has been sexually assaulted, call the National Sexual Assault Telephone Hotline at 800-656-HOPE (4673) or visit online.rainn.org.