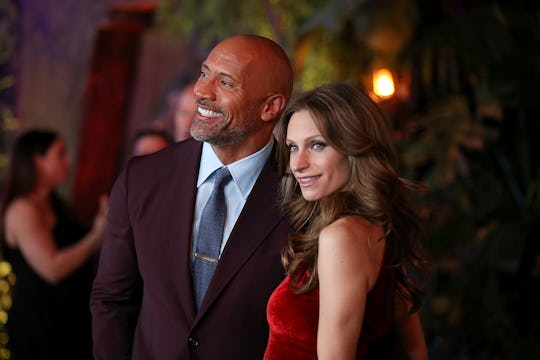 Phillip Faraone/Getty Images Entertainment/Getty Images
"The Rock" Is Caring For Lauren Kashian Through Her Pregnancy Like A Pro, & Dads, Take Notes
Dwayne "The Rock" Johnson is about to become a dad for the third time, and it's clear that it isn't his first time prepping for parenthood. There's a lot to worry about when anticipating the arrival of a new baby, but beyond anything else, the health and wellbeing of mother and child come first. Of course, The Rock is caring for his pregnant girlfriend like a total pro, ensuring that she's comfortable and that all of her needs are met. Dads, you should be taking notes.
The Rock told Us Weekly at a premiere Wednesday that he's looking forward to girlfriend Lauren Kashian giving birth at the end of the month. "When the baby mama is sleeping, any movement in the middle of the night, any kind of just turning over, I'm like, 'Hey, are you OK?' Constantly," he said. "It's an exciting time." He went on to say that he's being "very flexible and nimble," and always asking: "Are you OK honey? What do you need?"
The couple already has a daughter together, Jasmine, who is 2. The Rock also has another 16-year-old daughter named Simone from another relationship. The couple announced on Instagram back in December that their new baby was also be a girl, as HuffPost reported:
Our Jasmine Lia would like to make a big announcement - IT'S A GIRL! [Hashian] and I are boundlessly grateful for this blessing as this spring we'll welcome our second baby. Plus, Jazzy is excited to boss around and protect her lil' sis. And once again, big daddy is completely surrounded by beautiful estrogen and loving, powerful female mana. All girls. One dude. And a boy dog. I wouldn't have it any other way.
Of course, The Rock is a huge supporter of women in general, and just a few weeks ago, posted an iconic video of himself coaching his daughter Jasmine (Jazzy) on self-empowerment. "Alright my queen, can we say, 'Girl power?'" he began before Jazzy echoed it back to him.
"To every woman out there 'round the world - all ages and races - I proudly stand by your side to always honor, protect and respect," he wrote in the caption. "Especially, the loves of my life at home. Now if I can just get Jazzy to say the daddy is the most handsome, brilliant, sexiest man alive part, then we all gonna be cool."
Though he's definitely taking being a dad seriously, it's clear The Rock hasn't lost his sense of humor. In a recent interview with Jimmy Fallon, he revealed that he would be taking a trip to Shanghai in the next few weeks — that's right, just before Lauren is expected to give birth. Jimmy protested, saying he shouldn't travel this close to her due date, but The Rock insisted that it was an important work trip, and joked that Jimmy could be her doula in his absence.
While on the show, he also told audiences that Lauren played an April Fool's prank on him by pretending she was in labor, and later flipped the script to confess that the story was his April Fool's prank right then and there.
Humor still intact, it is beyond clear that The Rock is nothing if not an amazing father. He's also super transparent about everything from battling depression to dealing with his kid's medical emergencies. "Give me the strength to be a better man today than I was yesterday," he said when his second daughter, Jasmine, was born. "If I can accomplish that, then I'd have a good shot at being a great father." So far, he's done a pretty stellar job.
Check out Romper's new video series, Bearing The Motherload, where disagreeing parents from different sides of an issue sit down with a mediator and talk about how to support (and not judge) each other's parenting perspectives. New episodes air Mondays on Facebook.