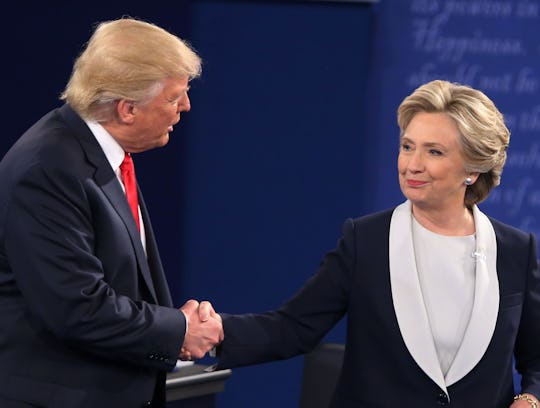 TASOS KATOPODIS/AFP/Getty Images
The Second Presidential Debate Was The Most Tweeted Ever & It Was An Important One
The second presidential debate is finally over. After ending on a surprisingly positive note, a senior reporter for CNN tweeted some interesting news about the latest showdown between Democratic presidential nominee Hillary Clinton and Republican presidential nominee Donald Trump: The second presidential debate was the most tweeted debate ever. Sunday's debate surpassed the first presidential debate, which saw 17.1 million Twitter interactions on Sept. 26.
Not only did Twitter keep track of overall interactions from the debate, but it also observed which particular moments from the debate had users tweeting the most. The most popular moments from the second debate were Trump stating he disagrees with Pence in regards to Syria, Trump referring to himself as a gentleman, and Trump threatening to put Hillary in jail if he were elected President. Say what you will about Trump — and there is a lot to say — but he can apparently really get people tweeting.
The Hollywood Reporter noted that the most-retweeted tweet of the second presidential debate came from Muslim author Moustafa Bayoumi. After Trump suggested that Muslim Americans should police each other, Bayoumi posted a spot on tweet that read, "I'm a Muslim, and I would like to report a crazy man threatening a woman on a stage in Missouri."
Another interesting tidbit about debate interactions on Twitter is that, according to Twitter government, there were more tweets about Trump's treatment of women than there were of any area of policy. (Obviously, policy is very important, and it should be pointed out that Trump doesn't really have much to say about policy). In this second debate, Twitter proved t be doing something pretty spectacular. It's providing a space for a public open forum to discuss the systematic sexism in our country. There are always going to be trolls trying to bring the discussion down, but the data released by Twitter shows that Trump's consistent treatment of women is being treated as an important issue by many. That's a step in the right direction.
Other topics that had people firing off Tweets throughout the debate were terrorism, the economy, foreign affairs, terrorism, healthcare, and gun control.
According to The Hollywood Reporter, Trump received more attention on Twitter than his opponent. Sixty four percent of the conversation on Twitter was about the Republican nominee, while 36 percent was focused on Clinton. Both candidates saw a bump in their Twitter followings, as well. Clinton's following grew by 25,000 and Trump's saw an additional 16,000 users hit the follow button.
Now we just have to wait and see if the third and final debate will break the record for most tweeted debate of all time.