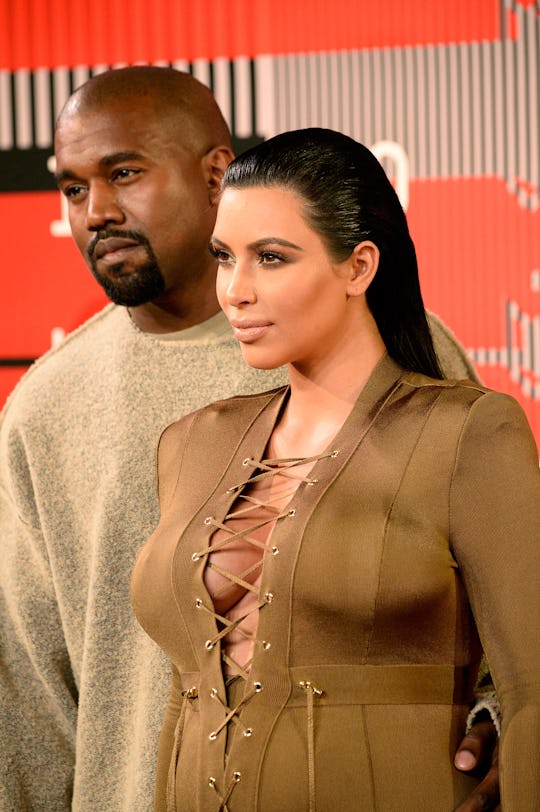 Frazer Harrison/Getty Images Entertainment/Getty Images
These Chicago West Theories *Might* Give Fans Another Inside Look Into The Famous, Growing Family
After a much-anticipated wait, Kim Kardashian-West and Kanye West's third child was born via surrogacy on Jan. 16, 2018. But perhaps even more anticipated than the baby's arrival was, of course, her name. Well, wait no more, Kardashian-West fans. On Friday the now-family of five uncovered the name of baby number three: Chicago West. And the Chicago West theories currently circulating the internet are giving fans another inside look into America's royal family.
Kardashian-West announced her third child's name, a baby born via surrogacy due to Kim's well-documented pregnancy complications, on her website; the same website where she shared the news of the baby's birth. With a simple, "Chicago West," followed by her daughter's birth date and birth weight, Kim and family revealed her to the world (sans picture, of course). But as the famous family already knows, arguably better than almost any other family in the United States: you can't please everyone. And early reactions to the newborn baby's name are, sadly, not what one would consider supportive. And on the tail end of that seemingly non-existent support comes more than a few theories about the baby's name and, by proxy, the baby herself. It's the internet, people. The internet cannot help itself.
The first "theory," of course, has to do with Kanye West. Arguably considered an unapologetic narcissist (because how dare someone celebrate their own success, right?), and infamous for his "unconventional" comments about his genius, fans are convinced his baby girl was named after, well, himself. While Kanye was born in Atlanta, Georgia, he moved to Chicago as a child and was raised there. So, naturally, fans are assuming that the child was named after her father. (And for the record, that's not unheard of, so we can all calm our collective jets before we start name-shaming the couple?) Here's how Twitter decided to discuss this particular theory:
Another, clearly less-than-realistic theory is that Kim and Kanye's newest edition is a nod to a potential career change. Now that Kanye has dominated the rap game, and Kim has ruled over reality television, endorsements, and merchandize, not to mention makeup and beauty products, perhaps the name "Chicago West" is a teaser for an upcoming television series? Who nows? Maybe, as a now mother-of-three, Kim has grown tired of reality TV and is opting for something scripted and, perhaps, less invasive?
Here's what Twitter, including the NBC shows Chicago Fire, Chicago P.D., and Chicago Med, had to say about it:
Whether Chicago West, the television show that everyone is obviously hoping comes to NBC relatively soon, is a drama, crime show, or medical drama of the mysterious and probably romantic variety, one thing is clear: the name has branding power, and a series of the same name is obviously what the people want. Shonda Rhimes, you've been summoned by the powers of the theorizing internet.
It's worth noting that the theories surrounding baby girl Chicago no longer involve Kylie Jenner and her reported, but yet-to-be-confirmed, pregnancy. And Chicago's name can't be used as a way to try and bridge a connection between her arrival and another Kardashian-Jenner baby, either. Kylie's boyfriend, Travis Scott, is from Houston, TX. So sorry, you tin-hat wearing Twitter users, but the idea that Kylie was Kim's surrogate is no more.
And, of course, at the end of the day all that matters is that Chicago and her family are happy, healthy, and safe. Thanks to science, and the selflessness of Kim's surrogate, Chicago made her way into the world safely and without putting her mother in danger. And the idea that more women who choose to become mothers should be able to say the same, regardless of who they are, is an idea I think, and hope, we can all get behind.
Check out Romper's new video series, Romper's Doula Diaries:
Watch full episodes of Romper's Doula Diaries on Facebook Watch.