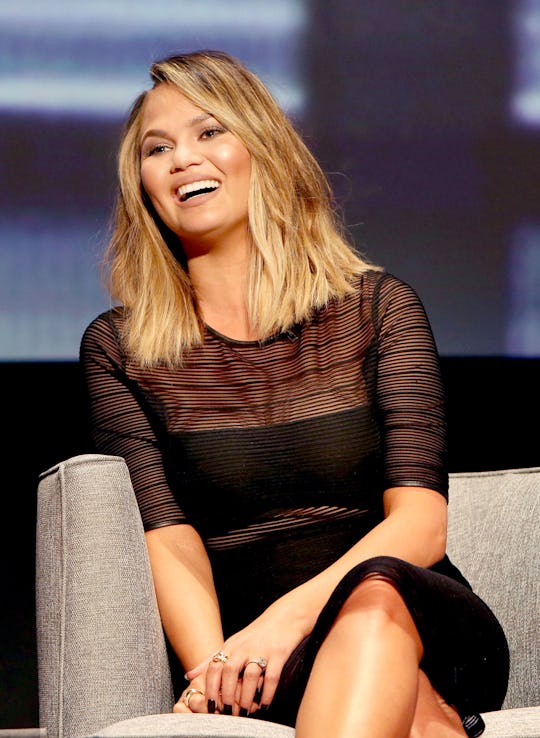 Rachel Murray/Getty Images Entertainment/Getty Images
These Clues Prove Chrissy Teigen Was Totally Hinting She Was Pregnant With Baby No. 2
The news that everyone's favorite cookbook author, supermodel, and celebrity mom is pregnant once again may have come as a surprise Tuesday in the form of an adorable Instagram post, but that doesn't mean that fans had no idea this was coming. In fact, there may have been some subtle clues that Chrissy Teigen was pregnant well before the big reveal to fans today. And, yes, that's in addition to the well-known fact that she wants to have a big family with husband John Legend. And so, where better to look for those possible clues than social media, where Teigen made the pregnancy announcement?
In the Instagram post, published Tuesday, it actually wasn't technically Teigen who divulged the happy news. No, that would be her 19-month-old daughter, Luna, who in the brief video clip points at her mom's belly and says "baby." Teigen — who has been forthcoming with fans about her struggles with infertility and the decision to conceive via IVF — is likely thrilled about her pregnancy. As she told SELF magazine back in March 2016, shortly before Luna was born, the 31-year-old plans to "be pregnant all through [her] 30s," and wants lots of kids:
I've always pictured everyone around the table for the holidays and together once a week. It will be heartbreaking if it doesn't end up happening, but hopefully it will. We've got some embryos on hold.
But was there any indication that the time to take the next step in reaching that goal had come, prior to the epic Insta reveal Tuesday? Let's dive in.
Teigen Wants ALL The Babies
Exactly one month before Teigen decided to let the world know that her family is growing, she shared an Instagram video of Luna, who's now 19 months old, adorably repeating words such as "Dada," "Mama," "Christine," "please," and "thank you." The caption?
I am living for this age. Give me all the 18 month olds.
Maybe Teigen posted this particular caption that she already knew that, in the not-so-distant future, she would have another 18-month-old she can teach all kinds of words to.
Dog Baby
On Nov. 12, Teigen tweeted that she was "at the emergency vet with [her] old man bulldog puddy." In the same tweet, she referred to the pet as "my first born baby." Don't worry! Two days later, Teigen celebrated his return with a Twitter video of the dog, joyously announcing that "My BABY IS BACK!!!!!!!"
Now, plenty of people consider their pets to be basically a part of the family, and may even think of them as their children, in a sense. But do Teigen's repeated references to the "baby" have another meeting in hindsight? After all, there's very little doubt that she had babies on the brain at the time.
No Fireball Shots For Teigen
Teigen actually recently told Cosmopolitan that she was trying not to drink as much as she had become accustomed to. That was back in August when, she said, she was gearing up to go through the IVF process again to try to have another baby. Well, now that baby is (almost) a reality, and Teigen tweeted Nov. 17 that, although she had been encouraging others to take shots of Fireball whisky, she "definitely" didn't take any herself. Could her continued commitment to staying mostly alcohol-free been a sign that she was expecting baby number two?
Bring On The Video Games
On Monday, Teigen tweeted a video of herself sitting courtside at a basketball game, and slowly panned the camera to the handheld video game she was playing in her lap. You have to admit it's possible that she's been channeling her inner child in anticipation of having another one. And, back in January, Teigen said both in a red carpet interview and on Twitter that her next child would be a boy (she famously choose to implant a female embryo first before she had Luna). Obviously, boys and girls can (and do) play with such handheld video games, but she just may have had her possible little boy in mind.
Whatever the case may be, congratulations are definitely in order for Chrissy, John, and Luna.
Check out Romper's new video series, Romper's Doula Diaries:
Watch full episodes of Romper's Doula Diaries on Facebook Watch.