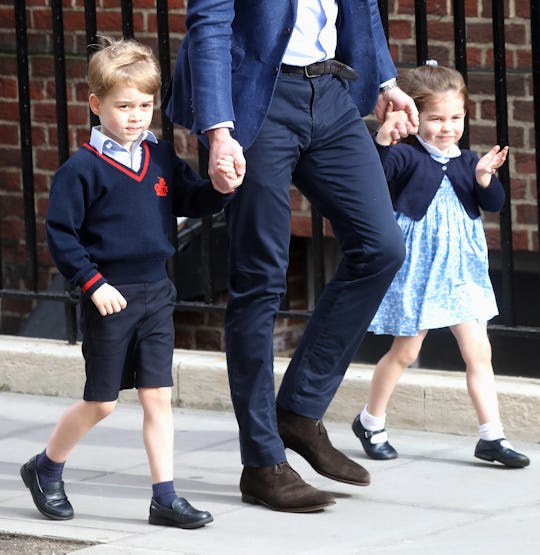 Chris Jackson/Getty Images Entertainment/Getty Images
These Photos Of Prince George & Princess Charlotte At A Polo Match Are So Adorable
It's pretty standard to imagine that the royal family's lives are made up of extreme luxury and, ya know, fancy meals and perfect etiquette. And while that might be true for the most part, especially where the adults are concerned, for the kids of the royal family, it's a bit more relaxed. After all, they're just kids. And now, these photos of Princess Charlotte and Prince George at a polo match prove that royal kids and just like every other kid, well, plus being in the line of succession to the throne. But, still, just like most kids.
You probably heard about how Prince George and Princess Charlotte totally stole the show during Saturday's Trooping The Colour parade in honor of Queen Elizabeth II's official birthday (different from her actual birthday). While the entire family stood on the balcony of Buckingham Palace to wave to the crowds below, both 3-year-old Princess Charlotte and 4-year-old Prince George had some pretty adorable moments that got everyone talking.
But now, the two are back at it. On Sunday, the two kiddos, along with mom, Duchess of Cambridge Kate Middleton, attended a polo match to watch their dad, Duke of Cambridge Prince William, have some fun of his own, according to People. And while this occasion was a lot more casual than Saturday's, the two royal children still had the best time, and the internet is seriously loving how much fun they had.
Yes, as People reported, the family all attended the polo match as a way to raise money for charity. Specifically, per People, the "Maserati Royal Charity Polo Trophy at Beaufort Polo Club, was to raise funds for the Royal Marsden cancer hospital and homelessness charity Centrepoint." So really, it was all for a good cause, which is definitely the best part. But you should still check out the photos of Princess Charlotte and Prince George having fun at their dad's event, because they're seriously adorable.
Of course, while both Princess Charlotte and Prince George were totally adorable on Sunday afternoon, it was definitely Princess Charlotte who stole the show. The little princess wore sunglasses at one point, according to People, and was serving some serious sass and looks.
Really though, most people were just happy to see that the young royals were able to have a good time, without all the pressures of behaving perfectly.
But if you want some more cuteness, look no further than the royal kids on Saturday. Not only were Princess Charlotte and Prince George again, seriously adorable, but their 7-year-old cousin, Savannah Phillips, the great-granddaughter of Queen Elizabeth was there and she made things even more adorable. At one point, young Savannah simply held her hand over Prince George's mouth, and an internet meme was born almost immediately after.
Really, the royal kiddos had quite an eventful weekend. And the internet absolutely adored them for it. Considering how prim and proper they usually tend to be, their little moments of playfulness and giddiness show that at the end of the day, they're just kids.
But, as many are wondering, it seems as though Prince William and Middleton didn't bring their third child, 1-month-old Prince Louis, to the event on Saturday or Sunday. Some royal spectators were a little disappointed, as the youngest member of the royal family has yet to make his reappearance since he was born back in April. But really, you shouldn't expect to see the little prince until his christening, whenever that happens to be.
For now, though, it's just refreshing to see Prince George and Prince Charlotte enjoying themselves with their family.