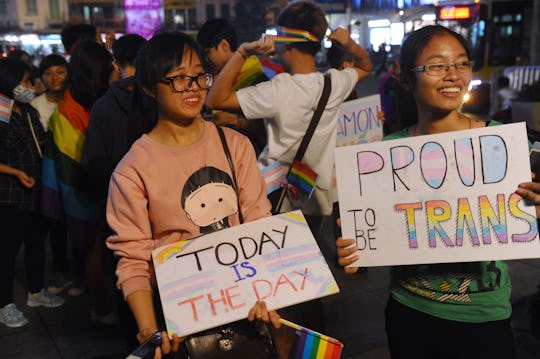 HOANG DINH NAM/AFP/Getty Images
This Dad Tackled Anti-Trans Bathroom Bills, Shutting Down Arguments About Safety
As states continue to enact legislation concerning transgender people and their bathroom use, one Texas dad expressed his deep concern for his daughter's safety. But his concerns had nothing to do with people using bathrooms that are aligned with their gender identity – his concerns are based on crimes that have been statistically and historically committed. That's why this dad's message on anti-trans bathroom bills is one for the books.
On April 14, dad Steve Rudner wrote a Facebook post about his actual safety concerns for his 21-year-old daughter that has since gone viral. Rudner explained that he worries about incidences like her being a victim of drunk driving, but he doesn't worry about her being attacked in a restroom by a transgender woman. Why? Because Rudner, who is the chair of the Equality Texas Board of Directors, said there were no reported incidences to prove that it's likely.
I'm the father of a 21 year old daughter. There are lots of things I worry about. I worry about her being sexually assaulted, because that happens a lot. I worry about her being the victim of a drunk driver, because that happens a lot. I worry about her being the victim of gun violence, because lots of people die from gun-related injuries. Here's what I do not worry about: I don't worry about her being attacked in a restroom by a trans woman because (a) it has never happened; and (b) trans women are the most victimized group of people I've ever met, and the least likely to commit a crime of indecency in a restroom, because they are afraid of getting beat up when all they want to do is pee...
Rudner's message comes in the wake of North Carolina's discriminatory anti-transgender "bathroom bill" known as HB2, which requires people to use the bathroom aligned with their gender assigned at birth. The bill has sparked a number of protests. Performers, like Demi Lovato and Nick Jonas, have canceled concerts in the state and Target took a stance against the bill, announcing that its customers had the right to use a bathroom aligned with their gender identity. North Carolina is certainly not the only state to have anti-transgender legislation, Tennessee and Alabama, are among other states to have enacted recent anti-trans legislation. Not to mention, the continued anti-trans rhetoric that persists in society.
What's especially troubling about Rudner's message is exactly his point: The notion that transgender people using bathrooms aligned with their gender identity increases the risk of violence has not been proven.
According to research done by Media Matters, states that have prohibited discriminatory anti-trans mandates on bathrooms — 15 of them — have not seen any evidence or incidents that prove that it promotes violence and assault. Nonetheless, supporters of anti-trans legislation insist that it does, which, often helps spread transphobic rhetoric. But sadly, transgender people, particularly transgender people of color, continue to be victims of discrimination, violence and hate crimes. Mic cited the National Transgender Discrimination Survey, which found that 63 percent of respondents said they "had experienced a serious act of discrimination," in their lifetime. It makes sense why Rudner concluded his Facebook status noting his pride in his children's values in acceptance and inclusion.
...I don't worry about my daughter being cruel and inhumane to trans men, women or kids, because my wife and I have raised her to have values and because she is a kind person.