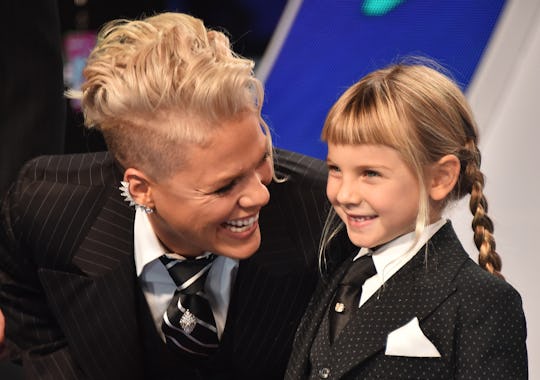 Frazer Harrison/Getty Images Entertainment/Getty Images
You Have To See This GIF Of Pink's Daughter Willow Singing Along With Her
On Sunday, Pink accepted the Video Vanguard Award at the MTV Video Music Awards — but just before she took the stage and gave perhaps the greatest acceptance speech ever, she performed a medley of some of her greatest hits. Her daughter Willow couldn't help but join in — who can blame her? This GIF of Pink's daughter Willow singing along with her mom is basically the GOAT moment of the night in my book. Pink's VMA performance was amazing to begin with, but was made all the more awesome when the camera cut to daughter Willow and husband Carey Hart singing along.
Pink is one bad*ss mom — two times over, no less — though it seems like her youngest son Jameson wasn't in attendance for the evening. But 6-year-old Willow was totally having a grownup night out with her mom and dad on the red carpet and in the audience at Sunday night's VMAs — and it's clear she was just as swept up in the excitement as everyone else there. Of course, it's even more special when watching her mom completely slay it on stage, especially when Willow can even sing along like she was the only one in the room.
Oh man, I just can't. This is too much.
Following her performance, Pink gave an incredible speech as she accepted her Video Vanguard Award — and every word of it was about and for her daughter. Pink took such an important moment on the world stage to promote an amazing message of inclusivity while simultaneously smashing gender and beauty norms in one fell swoop.
Even more touching is that her speech was totally coming from a place of boundless, brave love for her daughter. But are we really surprised by Pink's message of love? Of course not — because she's such an incredible mom.
Willow is incredibly lucky to have a mom as rad, empowered, and empowering as Pink — like can Pink be all our moms, even for like, five minutes? It's obvious that Willow adores her awesome mama and watching her sing along with her mom at the VMAs was a surprisingly intimate moment, despite all the crazy sets, lighting, and throngs of fans singing along, too.
Between getting to watch her mom absolutely slay through a retrospective of some of her greatest hits, accept such a special award, and then devote an entire speech that could have been Pink's presidential announcement — it was one incredible night for Pink's daughter Willow.