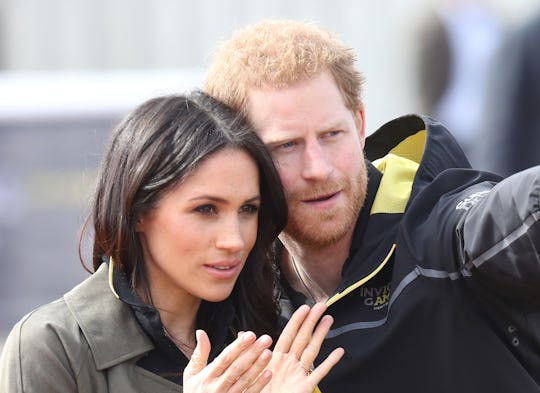 Chris Jackson/Getty Images Entertainment/Getty Images
This Difference Between Prince Harry & Prince William's Weddings Is Small, But Pretty Awesome
The day everyone has been waiting for is here! Six months after announcing their engagement, Prince Harry of Wales and Meghan Markle will exchange their vows and begin their lives as a married couple. Of course, fans of Markle and the British royal family are jumping up and down for joy as their wedding ceremony gets underway. And while the grandness of the day is certainly spectacular, there's on small moment that you may have missed: when the Archbishop proclaimed the couple "husband And wife" at the royal wedding.
Unlike his older brother's wedding, Harry and Meghan have updated the phrase after their vows when they were announced as a married couple to the masses. When Prince William, Duke of Cambridge, married Kate Middleton in 2011, the Archbishop of Canterbury addressed the congregation and said, "I pronounce that they be man and wife together, in the name of the Father, and of the Son, and of the Holy Ghost. Amen," according to a transcript of the service published by BBC News. Although "man and wife" is mostly considered an outdated phrase, it is still used by some officiants and religious leaders during opposite-sex wedding ceremonies. That's especially true if they still view marriage through the patriarchal lens where the woman is defined by her relationship to the man, as in the Bible. Otherwise, most opt for "husband and wife" when officiating an opposite-sex wedding nowadays.
Harry and Meghan's wedding included a proclamation that reads differently as the 2011 royal wedding. According to the order of services, provided by Kensington Palace, the Archbishop called the couple, "husband and wife."
In the presence of God, and before this congregation, Harry and Meghan have given their consent and made their marriage vows to each other. They have declared their marriage by the joining of hands and by the giving and receiving of rings. I therefore proclaim that they are husband and wife.
At the time, the title of Archbishop of Canterbury, which is the most senior bishop in the Church of England, was held by the Most Rev. and Right Honorable Dr. Rowan Williams, according to The Guardian. Now, that position is held by the Most Rev. Justin Welby, who took over as archbishop in 2013, BBC News reported.
Welby, by the way, prepared for Markle and Prince Harry's wedding day by repeatedly listening to "Blinded by Your Grace," a track from U.K.-based rapper and grime artists Stormzy, according to Page Six. Welby, who baptized and confirmed Markle into the Church of England, said of the song, "There's a line in it that's, 'I stay prayed up and get the job done,' I think that sort of sums it up," Page Six reported.
It's surprising, though, that Welby shifted from the script, and use "husband and wife" instead during the ceremony at St. George's Chapel. The Church of England, after all, is one of the stricter Anglican churches that's slower to change, such as allowing remarriage after divorce, according to The Weekly Standard.
The solemnization of marriage differing from Prince William and Kate Middleton's wedding is surprising, but not completely out of this world. Markle is a staunch feminist and humanitarian, and it seems so is Prince Harry, so who knows if the couple may have influenced the atmosphere around their wedding, if you will.
Whether Archbishop Welby used "man and wife" instead of "husband and wife" is a small matter, though. Although Saturday is a joyous day for Prince Harry and Markle, getting to this point has been a bumpy road for the couple. Mainly, Markle has had to contend with bad publicity surrounding her father's side of the family since their engagement was announced in November. Her estranged siblings, especially her half-sister Samantha Grant, have given interview after interview criticizing the former Suits star for either allegedly not inviting them to the wedding or for not getting her father, Thomas Markle, out of debt. And just this week, Thomas Markle had bowed out of walking his daughter down the aisle because of scandal surrounding paparazzi photos he paid to have taken.
Good thing the whole mess is behind Markle and she can enjoy her new life.