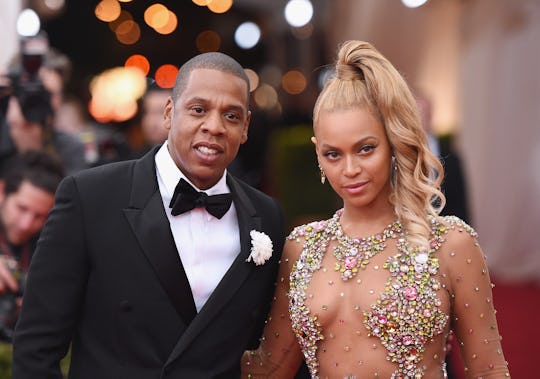 Mike Coppola/Getty Images Entertainment/Getty Images
This Video Of Beyoncé & JAY-Z Appearing To Renew Their Vows Will Make Your Heart Flutter
With so many celebrity couples splitting up these days, it can be easy to stop believing in love. But sometimes, couples manage to work it out and it can be a real inspiration to all us mere mortals. Namely, these videos of Beyonce and JAY-Z appearing to renew their vows that have gone viral, essentially over night, is really all the proof you need that true love does exist.
The couple kicked off their On the Run II tour in Cardiff, Wales on Wednesday night, as The Root reported. But it wasn't just some killer dance moves that got people talking. In fact, according to several people who attended the concert, while Bey and Jay were singing "Young Forever," a personal video played on the screens behind them, appearing to show a vow renewal ceremony, as E! News reported. Beyoncé's rep did not immediately respond to Romper's request for comment on the video.
Of course, seeing as how both Queen Bey and JAY-Z are pretty private when it comes to broadcasting their personal lives, they have not yet confirmed if this video indeed showed a vow renewal ceremony. But, that certainly seems to be the consensus on the interwebs. In the video, you can see all three of the couple's children, Blue Ivy and twins Sir and Rumi Carter. And as Billboard reported, an unofficial On the Run Tour II Twitter page shared the same image as many fans did on the night of the concert, with this caption: "Beyoncé & JAY-Z renewed their vows together with Blue and The Twins."
According to Twitter user @iDrewIvy, the video montage featuring personal, family videos from Bey and JAY-Z started with Beyoncé singing her part of her collaboration with Ed Sheeran, "Perfect." The videos featured the couple enjoying life, going on vacation, dancing, all with little 6-year-old Blue Ivy smiling along. Then, the videos transitioned to show Bey's pregnancy with the twins last year, with multiple clips featuring little Blue kissing her mom's bump.
Seriously, it's adorable.
But it just gets even better; according to the video, as Beyoncé and JAY-Z transitioned to singing "Young Forever," and a short clip plays with Blue Ivy, Sir, Rumi, and Ms. Tina Lawson all surrounding the couple — who are wearing white (Bey is even rocking a veil) — and standing close together, appearing to renew their vows.
Then, on Thursday morning, Beyoncé's mom, Tina Lawson, uploaded a shot that appears to be from the video from the concert to her Instagram with the simple caption, "My babies," leading many to further suspect that it was was from the couple's (alleged) vow renewal, as Bey's mom was so proud.
Between that and the entire video montage, the Beyhive was collectively shook. Basically, you're going to want to grab the tissues because it's a lot.
Although it hasn't been confirmed by the couple themselves, it wouldn't be unheard of for them to renew their wedding vows as their 10th wedding anniversary was just this past April. And based on how much it looks like little Sir and Rumi have grown in the video and in the photo Lawson shared, it wouldn't be too surprising if the couple renewed their vows on their anniversary a few months back, or at least sometime around then. Beyoncé gave birth to her twins in June 2017, making them almost little 1-year-olds now, and back in April, they'd be about 10 months old.
After the video montage, which ended with what looked like vow renewals, there was a simple sentence displayed on the screens: This Is Real Love.
Beyoncé and JAY-Z have basically just revived true love and if that doesn;t make you heart flutter, then I don't know what will. After Bey's 2016 smash hit album, Lemonade, and all the cheating allegations against JAY-Z that came with it, the couple has definitely had a rough few years. But it truly seems that with the birth of their twins — and now their new world tour in full swing — that Bey and JAY-Z are all about the love and it's really a beautiful sight to see. With couples like Channing Tatum and Jenna Dewan along with Chris Pratt and Anna Faris splitting up, people's faith in true love has certainly taken a hit. But Beyoncé and JAY-Z have proven that the are here to fix all of that.