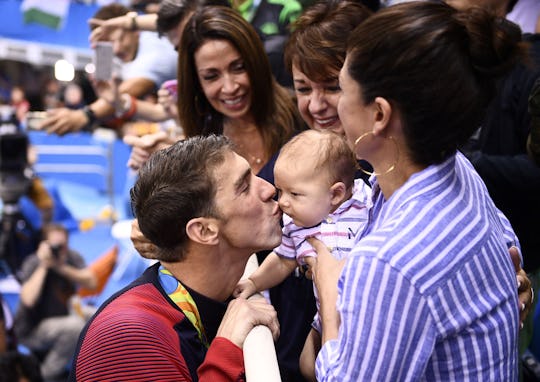 MARTIN BUREAU/AFP/Getty Images
This Video Of Boomer Phelps In The Pool Shows He Definitely Has Style
Michael Phelps' adorable infant son, who's now just 4 months old, definitely won the unofficial Baby Cuteness Olympics as he witnessed his dad cement his status as the most decorated Olympian of all time in Rio this year. When Phelps clinched the 23rd gold medal of his swimming career, Boomer was there, rockin' his signature noise-cancelling headphones that definitely had American admirers going, "Baby, I like your style." Phelps is now retired from competitive swimming, but that certainly doesn't mean his son is fading from the spotlight; in fact, a new video of Boomer Phelps in the pool gives us hope that we'll get to see him grow into his personality — and, maybe, into the next, well, Michael Phelps.
In addition to winning six medals for the United States during his final Games this summer — for a grand total of 28 over the course of four Olympics — Phelps delighted the nation with his "Phelps face," the quickly memed pre-race death stare. But images of the young Boomer present a much softer, more aw-inducing generation of the Phelps legacy, and the latest post to Boomer's own Instagram account is evidence that this well-known infant will grow into a truly iconic child.
In it, a relaxed Boomer floats on a pool raft and chills in the water wearing some cool mirrored sunglasses as the oh-so-appropriate opening line of Drake's "One Dance" flows. "Baby, I like your style," singer Kyla belts, and it's hard to imagine that the line wasn't written specifically with Boomer in mind. From his plaid swim trunks to his sly half-smile, Boomer exudes an endearing baby-confidence that he surely inherited from his dad. He's clearly at ease in the water and a very happy baby, too.
He's a worldly baby as well. Although he won't remember his early adventures, he literally arrived on the world stage (by being born) just months before Phelps' fifth trip to the Olympics, and Phelps and his fiancée, Nicole Johnson, have not opted to simply leave him at home. He traveled to Rio, and, right afterwards, he joined his parents in the pool, as chronicled on — where else? — his Instagram. He even headed to a America's Got Talent when Phelps co-hosted one night. And after the emergence of his "Baby, I like it slow" Instagram video, it looks as though Boomer may have some potential to break into the entertainment industry, too — or maybe toddler fashion, because he's certainly got style.