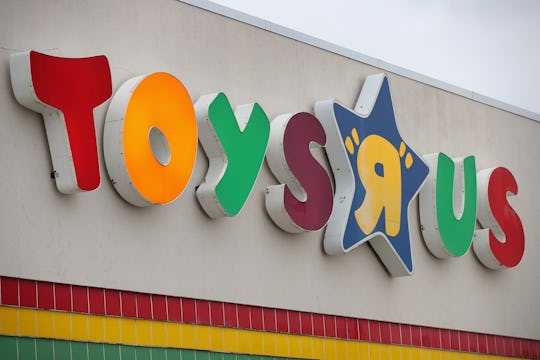 Scott Olson/Getty Images News/Getty Images
Toys "R" Us Liquidation Sales Have Been Postponed, & Here's What You Need To Know
Last week, news broke that all Toys "R" Us and Babies "R" Us stores in the United States would be closing. Fans of the stores were obviously disappointed, and the internet has been abuzz all week with people's thoughts on the topic. And since customers found out that the superstores would be shutting down, their only consolation was the knowledge that huge clearance sales were right around the corner. The massive discounts were set to start today, Thursday, March 22, so naturally, many eager shoppers showed up to stores bright and early this morning. However, they arrived to find out even more bad news — all Toys "R" Us liquidation sales were postponed indefinitely, and would not be starting Thursday. Here's everything you need to know about the situation, including when liquidation sales may resume.
Signs were posted in store windows as well as inside stores informing customers of the delay, according to a report by Business Insider. "All liquidation sales have been postponed until further notice," read a sign on display in a Bridgeport, West Virginia, store, according to a customer's tweet Thursday morning. The outlet spoke with a Toys "R" Us representative about the postponement, and the spokesperson told Business Insider that the sales had been put off "due to unforeseen circumstances" and that discounts "could begin Friday."
Basically, it's unclear exactly when Toys "R" Us will begin its liquidation sale, but there's a chance it could start again Friday. Toys "R" Us did not immediately respond to Romper's request for comment.
Many confused customers took to Twitter to criticize (and inform other shoppers) about the postponed sale.
Because news confirming Toys "R" Us and Babies "R" Us' upcoming liquidation broke over a week ago, it's understandable that customers would be confused about why the sale had been postponed. As noted by Business Insider, the reason likely has to do with resistance from vendors and suppliers whose items are sold at Toys "R" Us stores. More than 50 suppliers have reportedly pushed back on the idea of Toys "R" Us liquidating. Simply liquidating merchandise isn't as simple as it seems, especially because there is so much of it stuck on ships and trucks, Reuters reported. Additionally, as Business Insider reported, Toys "R" Us has not even paid for all of the inventory that is currently in limbo, and some of the suppliers have asked for Toys "R" Us to return the unpaid merchandise instead of liquidating it to customers.
Not to mention, corporate seems to be keeping store managers out of the loop. A Twitter user posted a photo of a sign in a Toys "R" Us window that read:
Attention customers: Liquidation sale has been delayed. We are waiting for the final approval.
Toys "R" Us' journey over the past few months has been a rocky one. Back in September, the toy chain filed for bankruptcy. That piece of news caused customers to panic — and things only grew worse from there. In January, Toys "R" Us announced plans to shutter up to 182 of its stores. Then in February, news broke that Toys "R" Us planned to close 200 more stores. And then in early March, reports that Toys "R" Us was planning to liquidate all of its remaining stores began to spread. By last Wednesday, those rumors had been confirmed. Many parents lamented over the news, especially those pregnant with their first babies, since registering at Babies "R" Us is a rite of passage for so many expecting parents.
Closing dates have not yet been announced for Toys "R" Us and Babies "R" Us stores. According to Toys "R" Us' website, "The store closings are pending court approval and subject to ongoing lease negotiations with our landlords." So between that and the liquidation snafu, it looks like Toys "R" Us has bought itself a little more time.