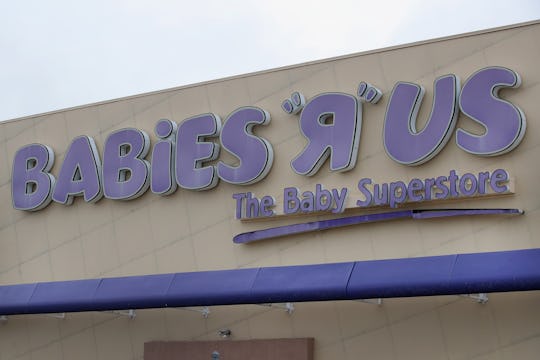 Scott Olson/Getty Images News/Getty Images
Will Babies "R" Us Still Be Online? Here's Everything You Need To Know
Last week, news broke that all Toys "R" Us stores in the United States will be going out of business. Unfortunately for expecting parents, that means that Babies "R" Us stores are closing as well. The news undoubtedly leaves customers — especially those who have baby registries at the store — with a lot of questions. Namely, will Babies "R" Us still be online?
As of Monday morning, the Babies "R" Us website is still live and fully functional. The site doesn't show signs of suddenly disappearing, and visitors are still able to create a registry. (However, creating a registry with the dwindling brand probably is not the best idea — more on that in a moment.) Toys "R" Us CEO Dave Brandon recently addressed this question for employees, according to CNN. He explained that the Babies "R" Us online registries and web store will still be live for the next "few weeks." He added that this decision was made because the store's website could help engage potential buyers.
Most recent reports, though, say the online store and registry should remain active for the next few weeks.
As Brandon also explained, according to CNN, there are currently 735 Toys "R" Us and Babies "R" Us stores around the United States. While most of them will be liquidated soon, the company is hoping to find a buyer to take over around 200 of its most lucrative stores.
Plus, if you have gift cards or store credit for Toys "R" Us or Babies "R" Us, now would be the time to use them. A spokesperson for the brand told CNN that gift cards and store credit will only be honored for the next 30 days.
So, for those who currently have a baby registry at Babies "R" Us, there are a few options. If your baby shower or baby's birth is scheduled within the next month, you may opt to keep your registry — especially considering that Babies "R" Us will likely start offering discounts soon. However, buying items that come under warranty could be risky, since warranties may or may not be honored after a store liquidates, according to the Better Business Bureau.
So whether your timeline allows for you to keep your registry at Babies "R" Us, it could be a good idea to change your registry over to another website. If you've already spent a ton of time at Babies "R" Us researching and scanning items for your registry, it might feel annoying to have to do that all over again at another store. Luckily, stores such as Amazon (Khloé Kardashian's pick), Target's baby registry, or Buy Buy Baby all offer online registries, where you should easily be able to recreate your original registry.
Some parents who currently have registries with Babies "R" Us took to Twitter to express disappointment regarding news that they would have to change their registries.
And some people who do not yet have kids but who have always dreamed of registering at the store shared their feelings on Twitter as well.
If you are invited to a friend's baby shower, and their registry is currently with Babies "R" Us, you should be fine to still purchase their gift from the web store, as long as you do it within the next month. However, it couldn't hurt to reach out to your friend before making a purchase, in case they are already in the process of transferring their registry to another site.
It's definitely a bummer that Babies "R" Us is closing, but at least fans of the store will have a few more weeks to shop there, whether in-person or online.
Check out Romper's new video series, Bearing The Motherload, where disagreeing parents from different sides of an issue sit down with a mediator and talk about how to support (and not judge) each other's parenting perspectives. New episodes air Mondays on Facebook.