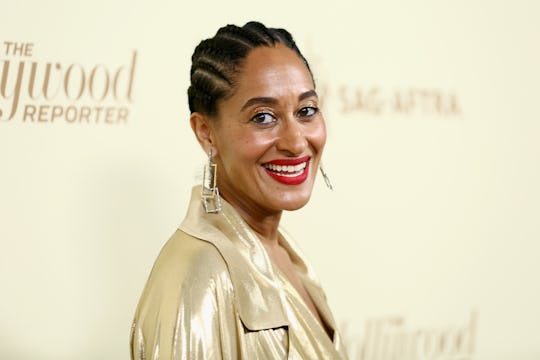 Rich Fury/Getty Images Entertainment/Getty Images
Tracee Ellis Ross Sets The Record Straight About Being 45, Single & Childless
On Black-ish, Tracee Ellis Ross plays Dr. Rainbow Johnson: an anesthesiologist, a mother of five, and she's married to Anthony Anderson's character, Dre. But in real life, Ross couldn't be more different than her character. She is a powerhouse actress, she doesn't have any children, and she's single. In a recent interview, Tracee Ellis Ross got honest about being childless and single at 45 years old — and why she absolutely loves that lifestyle.
Ross, who covers InStyle's November issue, opened up about the topic in a story for the magazine that was published on Wednesday. "It's sort of fascinating to be 45 and single and childless," she told InStyle. "Happily single, I should add. Not at home crying about it." Even though Ross is perfectly content with what she calls "choiceful solitude," she lamented about having to frequently address the fact that she is single and not a mother at 45.
"These are very big and very personal questions that aren't anyone's business but that somehow, like the right to choose, become fodder for public conversation," she explained to InStyle. "Some of the ability to reflect on what I really want comes from pushing up against a society that shames me for not having the expected trappings. I'm very pleased with my existence these days. Have I had to learn to make friends with loneliness? Yes. I think if I were in a relationship, it would be the same."
Ross also explained that she is a big fan of the freedom that not having a spouse or children has given her, because she has more time to do what she loves. When she's not working on Black-ish, Ross told InStyle that she enjoys traveling, caring for her lemon trees, and playing dress-up in her own closet. TBH, I'm relieved that I'm not the only one who does that — although my closet doesn't include nearly as many hand-me-downs from Diana Ross as Tracee Ellis Ross' does.
Ross has opened up about the public's pressure and invasiveness regarding her womb — and yes, she has specifically used the word "womb" — on multiple occasions. In an interview with Vanity Fair this past June, Ross explained that her character's pregnancy on Black-ish led many nosy people to ask her unwarranted questions about whether she was pregnant in real life. She told the magazine:
I literally have said to people, for real, no joke, "Why don't you just get out of my womb? Like, get out of my uterus? What are you doing in there? And why are you asking those questions? And what makes you think you can ask that?" Part of what patriarchy has created for women is this siloed-off experience, with one answer for what a good life looks like.
And at Glamour's 2017 Women of the Year Summit last November, Ross further explained how playing a mom on television has amplified these pressures. "It's really interesting to be a woman, and to get to 45, and to not be married, and to not have kids. Especially when you've pushed out five kids on TV," she said in a speech at the summit, Glamour reported. She then explained that even though she used to dream of starting a family, she also used to dream about "winning an Oscar and being on the cover of magazines and making a difference in the world, helping women find our voices," according to Glamour. (Most of which she has done. Get it, girl.)
But even though she has become so successful, people still unfairly put pressure on her to get married and have kids. She also said in her speech, according to the Huffington Post:
I've built a really incredible life, and I have become a woman that I am very proud to be. And then someone just walks up to you and is like, "You know, a friend of mine adopted at 52. It is never too late for your life to have meaning, sweetie!" And my worth just gets diminished as I am reminded that I have failed on the marriage and the carriage counts.
No matter people's unreasonable expectations of Ross, it's clear that she is living a successful and happy life. And as long as Ross' actions are not harming anyone else (and they're clearly not), it's time for people to mind their own business once and for all.