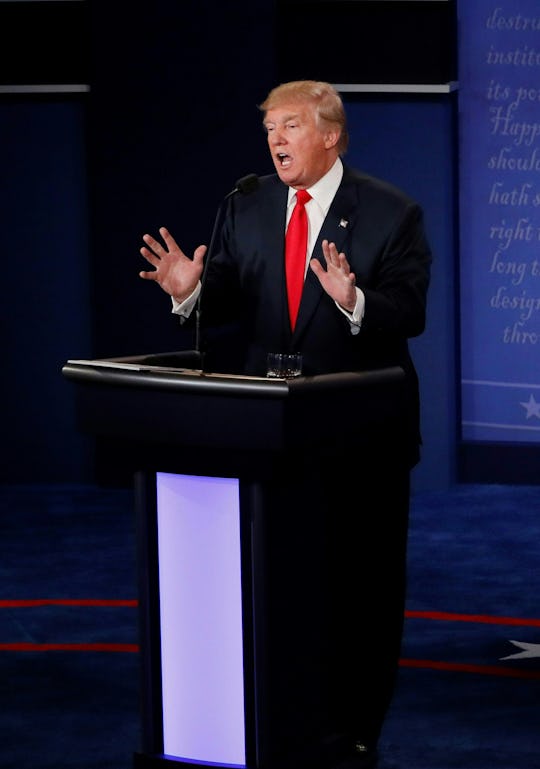 MARK RALSTON/AFP/Getty Images
Transcript Of Donald Trump's Closing Statement Means The Election Madness Is Nearly Over
Republican presidential nominee Donald Trump closed out the second debate this month by paying his opponent a strikingly straightforward, and seemingly sincere, compliment. "She doesn't quit," Trump said of Democrat Hillary Clinton. "She doesn't give up. I respect that." It was a surprising moment, and in nearly every way the antithesis of the negative rhetoric that has defined this campaign season. And, of course, it did not last: The transcript of Donald Trump's closing statement at the third presidential debate does not maintain that fleeting warm and fuzzy feeling that's long since dissolved anyhow. What it does do, though, is indicate that, with zero debates and 19 days left until the election — and Trump's anger growing every day — the end is in sight.
Because, whew, it's been a tough road from the second debate to the third. Several women have publicly accused Trump of sexual assault and harassment in the interim, and he responded to his resulting slide in the polls by making unsubstantiated claims that the election is rigged against him. Clinton, meanwhile, has kept a relatively low profile, presumably engaging in rigorous debate prep and deciding how to talk about the WikiLeaks hack that's revealed what's believed to be internal emails among her campaign team that show, among other things, that she does not like to apologize.
They're salacious topics that were expected to eclipse the issues that moderator Chris Wallace had decided to address during the face-off at the University of Nevada in Las Vegas Wednesday evening: debt, immigration, the economy, foreign hot spots, the Supreme Court, and each candidate's fitness to be president.
Well, "fitness to be president" is perhaps the segment Americans were most looking forward to anyhow, and the GOP's candidate really delivered with his closing statement. In in, he predictably disparaged Clinton and painted a doom and gloom picture about the state of the nation, one that was reminiscent of his notably fire and brimstone Republican National Convention speech in July.
A full transcript of Trump's closing remarks can be found below:
When I started this campaign, I started it very strongly. It's called "Make America Great Again." We're going to make America great.
We have a depleted military. It has to be helped, it has to be fixed. We have the greatest people on earth in our military. We don't take care of our veterans. We take care of illegal immigrants — people that come into the country illegally — better that we take care of our vets. That can't happen.
Our policemen and women are disrespected. We need law and order, but we need justice too. Our inner cities are a disaster. You get shot walking to the store. They have no education. They have no jobs.
I will do more for African Americans and Latinos than she [Hillary Clinton] can ever do in 10 lifetimes. All she's done is talk to the African Americans and to the Latinos. But they [Democrats] get the vote, and then they come back, they say, "See ya in four years."
We are going to make America strong again, and we are going to make America great again, and it has to start now. We cannot take four more years of Barack Obama, and that's what you get when you get her.
Whatever you thought of Trump's closing statement, at least the painful debate season is finally over.