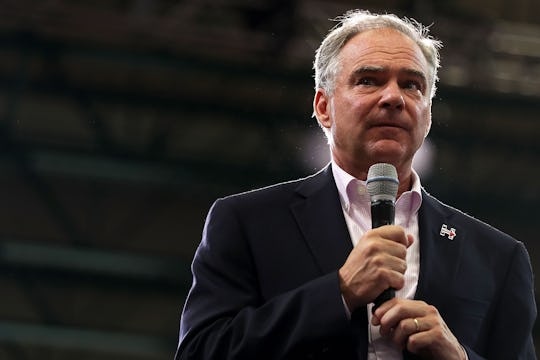 Alex Wong/Getty Images News/Getty Images
Transcript Of Tim Kaine's Opening Statement Was All Business
Tuesday's vice presidential debate wasn't supposed to be as wild of a ride as the first presidential debate last week, but the transcript of Sen. Tim Kaine's opening statement shows that he came prepared and ready to battle. The debates move quickly, and Kaine kept his opening short, sweet, and to the point. Riding on the wave of his running mate, Democratic presidential nominee Hillary Clinton's, Kaine was all smiles and fist bumps as usual, and was ready to take Gov. Mike Pence head on.
In fact, Kaine was warming up all day on Tuesday. Hours before the debate began, he tweeted a link to "a sample of the hateful, incoherent, and divisive things Donald Trump and Mike Pence have said" that led to a page his campaign had created, compiled of quotes from the Trump-Pence ticket. Later, in both English and Spanish, he followed up with his "message" to his opponents, tweeting "we're going forward, not backward." It was apparent that Kaine, like Clinton before him, had streamlined his message and was planning to stick to his campaign's main messages (and throw in a little Spanish here and there).
Vice presidential debates have a reputation for being a bit of a snooze-fest, but there's nothing traditional about this election season and both Kaine and Pence were ready to rumble.
Here's a full transcript of Kaine's opening remarks (that were, alas, made without a harmonica accompaniment):
Elaine, thank you for being here tonight. Governor Pence, welcome. It is so great to be back at Longwood University in Farmville, Virgina. This is a very special place. Sixty-five years ago, a young courageous woman — Barbara Johns — led a walk out of her high school, Moton High School. She made history by protesting school segregation. She believed our nation was stronger together, and that walk out led to the Brown versus Board of Education decision that moved us down the path toward equality.
I am so proud to be running with another strong, history-making woman, Hilary Clinton, to be president of the United States. I'm proud because her visions of stronger together, building an economy that works for all, not just those at the top — being safe in the world not only with a strong military but also with strong alliances to battle terrorism and climate change, and also to build a community of respect just like Barbara Johns tried to do 65 years ago. That's why I'm so proud to be her running mate.
Hillary told be why she asked me t be her running mate. She said, "the test of a Clinton administration will not be the signing of a bill or the passage of a bill. It will be whether we can make somebody's life better. Whether we can make a classroom better learning environment for school kids or teachers. Whether we can make it safe." It's gonna be about results. And she said to me, "You've been a missionary and a civil rights lawyer. You've been a city councilman and mayor. You've been lieutenant governor, and governor, and now a U.S. senator. I think you'll help me figure out how to govern this nation so that we always keep in mind that the success of the administration is the difference we make in people's lives. And that's what I bring to the ticket. That experience having serve din all levels of government.
My primary role is to be Hillary Clinton's right hand person and strong supporter as she puts together the most historic administration possible, and I relish that role. I'm so proud of her. I'll say this. We trust Hillary Clinton, my wife and I. We trust her with the most important thing in our life. We have a son deployed overseas in the Marine Corps right now. We trust Hillary Clinton as president and Commander In Chief, but the thought of Donald Trump as Commander In Chief scares us to death.
There wasn't too much pressure on Kaine leading up to the debate, since the campaign has been cruising along since the Clinton-Trump debate last week. Pence had a little more to prove and to make he stepped up to defend some of the hits the Republican ticket took this week following the debate, like Trump's late night tweet rant about Alicia Machado, the release of past tax documents, and a misguided (if not completely offensive) statement on veterans dealing with PTSD. Pence had reportedly been preparing much more than his running mate had for his first debate, so Kaine had to stay on his toes and not get too far ahead of himself.
Kaine's opening statement was short, sweet, and stuck to the point. But it really is a shame he didn't break it down, blues style.