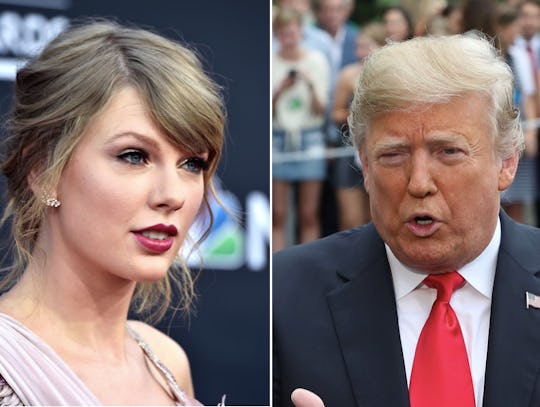 Mark Wilson/Getty Images News/Getty Images/ Frazer Harrison/Getty Images Entertainment/Getty Images
How Trump Weighed In On Taylor Swift's Rare Political Statement Will Surprise No One
On Sunday, a usually apolitical Taylor Swift shocked fans when she announced that she is endorsing two Democratic candidates up for election in Tennessee. Although many followers applauded her for her bold decision, plenty of her conservative fans weren't impressed — and one of them is the POTUS. That's because President Donald Trump addressed Taylor Swift's rare political statement during an interview on Monday, Oct. 8, according to The Hill, with a response that probably won't surprise anyone.
When Trump was informed of Swift's endorsement, he called Republican candidate Marsha Blackburn a "tremendous woman," adding that Swift "doesn't know anything about her," according to ELLE. He continued: "Let's say that I like Taylor's music about 25 percent less now, OK?" Trump told reporters, after returning from a trip to Florida.
In case you missed it, Swift broke her silence on politics with a lengthy Instagram post on Sunday, according to Business Insider. In her post (for which she smartly disabled the comments), Swift revealed her endorsement for Democratic candidate Phil Bredesen to the Senate, while also explaining why she refuses to support Republican candidate.
"I'm writing this post about the upcoming midterm elections on November 6th, in which I'll be voting in the state of Tennessee," Swift wrote. "In the past I've been reluctant to publicly voice my political opinions, but due to several events in my life and in the world in the past two years, I feel very differently about that now." She continued:
I always have and always will cast my vote based on which candidate will protect and fight for the human rights I believe we all deserve in this country. I believe in the fight for LGBTQ rights, and that any form of discrimination based on sexual orientation or gender is WRONG. I believe that the systemic racism we still see in this country towards people of color is terrifying, sickening and prevalent.
Swift went on to say that she can't vote for someone who isn't "willing to fight for dignity for ALL Americans, no matter their skin color, gender or who they love."
She then listed the many reasons why she will not be voting for the Republican candidate. "As much as I have in the past and would like to continue voting for women in office, I cannot support Marsha Blackburn. Her voting record in Congress appalls and terrifies me," Swift wrote, according to USA Today. "She voted against equal pay for women. She voted against the Reauthorization of the Violence Against Women Act, which attempts to protect women from domestic violence, stalking, and date rape. She believes businesses have a right to refuse service to gay couples. She also believes they should not have the right to marry. These are not MY Tennessee values."
Swift ended her Instagram post by noting she will be voting for Phil Bredesen for Senate and Jim Cooper for the House of Representatives. She then called for her followers to educate themselves — and then vote for the candidate who best represents their values — but to first make sure they're registered to vote.
When it comes to Trump's response about Swift's political endorsements, Twitter had some impressive clap backs. One Twitter user had the perfect response. "I am sure @taylorswift13 will just shake it off..." LOL.
Another Twitter user was quick to point out that the number of followers Swift has significantly outnumbers the president's. (Swift has 112 million Instagram followers and Trump has 10.1 million, and Swift has 83.5 million Twitter followers, while Trump has 55 million.)
Yet another Twitter user wrote, "Taylor Swift made a brave decision to speak her truth & show her support for the Democrats running for Congress in her state. @realDonaldTrump made a toddler decision to attack her & say he likes her music 25% less now. Ignore the toddler @taylorswift13. We're w/ you all the way!"
I have a feeling that Taylor Swift's personal experience with sexual harassment, along with the recent confirmation of Brett Kavanaugh — who has been accused of sexual assault and misconduct by multiple women, allegations he has firmly denied — is what prompted Swift to break her silence about politics. I, for one, am so proud of her for finally speaking up. And if the worst that happens is the POTUS "liking her music 25 percent less," then I'd say it was well worth the risk.