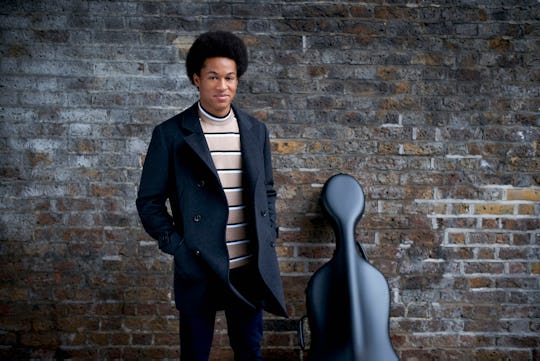 Handout/Getty Images Entertainment/Getty Images
Everyone's Obsessed With The Royal Wedding Cellist& They Should Be
There was a lot about the royal wedding that stood out, but 19-year-old cellist, Sheku Kanneh-Mason, grabbed the attention of many, many people. His musical performance in St George's Chapel at the end of the royal wedding between Prince Harry, the Duke of Sussex, and Meghan Markle, the Duchess of Sussex, was absolutely captivating. This reaction was seen through the endless tweets about the cellist at the royal wedding, which showed that people were enthralled by the teenager.
Everyone knows that music sets a tone. It's what you put on while getting ready before an evening out to pump you up. It's what you put on in the car to shout along to and ignore everything else around you. Music is super vital for every important occasion and the royal wedding was no exception. From the beautiful soprano who sang as Markle walked down the aisle to the gospel choir that sang "Stand By Me" as the wedding came to a close, the soundtrack to the royal wedding sounded perfect.
But nothing compared to Kanneh-Mason's gorgeous cello performance that played before they walked out of the chapel. For just 19 years old, it felt as if Kanneh-Mason had played to royalty before, like a seasoned pro. And people on Twitter definitely noticed.
Some people thought his performance was inspiring, especially for only being 19. When I was 19, I could barely remember to do my laundry once a month (college, am I right?) let alone play an instrument as beautifully as Kanneh-Mason.
Others felt something going on in that chapel.
Whatever the case may be, it was clear that Kanneh-Mason impressed so many people, leaving them to wonder who the heck he was and where he came from. Kanneh-Mason's appearance at the royal wedding was a personal choice done by both Markle and Prince Harry, if that gives you any indication as to what the couple is into.
Kanneh-Mason first caught the attention of Prince Harry at a charity event last June, according to CNBC. Like people on Twitter, Prince Harry must have been incredibly impressed by the performer and his performance must have stuck with him. Because almost one year later, Prince Harry and Markle asked him to perform at their wedding.
Although many people were hearing Kanneh-Mason for the first time ever during the royal wedding broadcast, he is already a very well established musician, according to CNBC, first taking up the cello at 6-years-old and appearing on Britain's Got Talent in 2015 with his family members, who are also musicians. In 2016, according to The Sun, Kanneh-Mason also won BBC's Young Musician of the Year award. Based on his performance on Saturday afternoon, you can tell that he rightfull earned that award.
When it was first announced in late April that Markle and Prince Harry had asked Kanneh-Mason to play at their wedding, according to CNBC, the young musician got his chance to take to Twitter where he shared his excitement to perform ahead of the ceremony. "What a privilege," he wrote. "I can't wait!"
But you can tell, based on that tweet, he had no idea what he was in for. His performance at the royal wedding was not only one of the most impressive moments of the day, it showed that Markle and Prince Harry have excellent taste. It also gave royal watchers some insight into the couple and their interests. Incredible cellists who take the breath away of everyone in the room is a great interest to have.
Kanneh-Mason's talent stood out so clearly at the wedding. And based on all of the positive reactions, it is clear that this is only the launch pad for him. Look out world, Kanneh-Mason is coming.