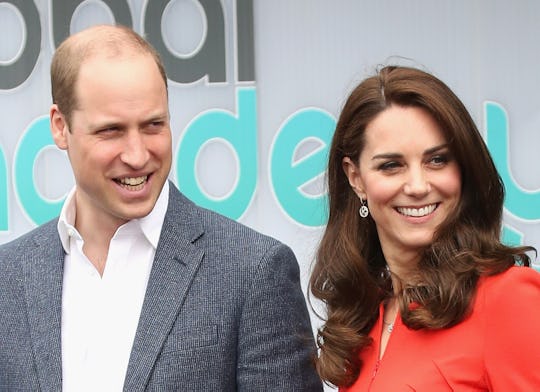 Chris Jackson/Getty Images Entertainment/Getty Images
Twitter Thinks Kate Middleton Is Having A...
What a great way to start the week with the news that the Royal Family is growing: On Monday, Kensington Palace announced that Kate Middleton and Prince William are expecting their third child. Seeing as how the royal couple already has Prince George and Princess Charlotte, social media is abuzz with speculation about whether the next royal baby will be a boy or a girl. Twitter can't decide if Kate Middleton is having a boy or a girl, because reasons.
There are a lot of things to consider: According to the official announcement, Middleton is suffering from hyperemesis gravidarum (HG), just as she did with her two previous pregnancies. A 2012 study found that women with HG are likelier to have girls than women who didn't have HG. In Middleton's case, she had HG with both children, so her third child's sex can't be predicted by her medical condition alone at this point.
Meanwhile, some on Twitter have based their Royal Baby predictions based on what Queen Elizabeth II wore at the same time Kensington Palace made the announcement. Her Majesty was at a bridge opening — the United Kingdom's tallest — in Scotland on Monday, wearing a bright blue coat with matching hat, so of course Middleton is having a boy.
One of the more popular theories on Twitter is that Middleton is actually having a girl, based on U.K. betting houses. Alice already seems to be the early favorite for the next Royal Baby name, which means that many people seem to think that the next royal will be a baby princess.
Of course, that's up for interpretation, too. Who doesn't love a clever bit of word play?
Since science and betting parlors aren't necessarily the most reliable sources for Royal Baby predictions, it may be necessary to peer into the metaphysical.
So while some might turn to their crystal balls or tarot decks, for others, it's as easy as taking a nap.
True story: I have personally predicted the sex of two different babies in my lifetime thanks to dreams. Sadly, Kate Middleton nor her pregnancy did not make an appearance in any of my dreams this weekend. But there's still plenty of time for my mind to dream up the correct prediction before the Royal Baby is set to make her or his arrival.
As of right now, fans of the royals have pretty much only a single guarantee: Kate Middleton is having a baby — and that's as specific as the Royal Family will be until she gives birth, just as she did with Prince George and Princess Charlotte. Just to be safe, go ahead and make both predictions on Twitter now, and then just go back and delete the wrong one once the newest member of the Royal Family arrives.