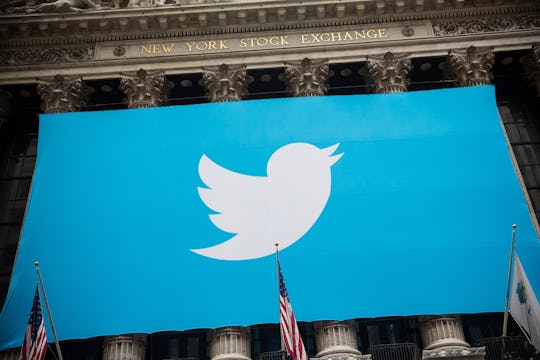 Andrew Burton/Getty Images News/Getty Images
Twitter Will Offer All New Parents 20 Weeks of Paid Leave & It's An Inspiring Step
Twitter recently announced its upgrade to a policy that concerns (what should be considered) the basic needs of families: fully paid parental leave. Twitter will offer all new parents 20 weeks of fully paid leave, not just birth moms, now making it a more inclusive and equal policy for all parents — moms, dads, same-sex parents, and adoptive parents alike.
According to Fortune, the tech company's current policy already gives new birth moms up to 20 weeks of paid leave but dads and adoptive parents had 10 weeks. And since the health and psychological benefits of having time off to nurture a baby in the early weeks and months aren't limited to birth moms, and, since only considering birth moms as primary caregivers reinforces gender norms, Twitter's expansion of its policy is spot-on.
"We're removing traditional gender and family stereotypes by extending our leave benefits to all parents, no matter the form parenthood takes," Jeffrey Siminoff, Twitter's vice president of inclusion and diversity, told Business Insider. "Our benefits and culture are designed to help lessen the challenges all new parents face and broaden the reach of who's covered."
Twitter's new policy will go into effect for U.S, employees May 1, and employees worldwide no later than July 1. Other tech companies, like, Etsy, Facebook, Reddit and Google, have made headlines in recent years over their paid parental leave policies.
Facebook announced last November that it extended its parental leave to four months for all parents (affecting birth moms, dads, same-sex and adoptive parents), with a $4,000 stipend included. Etsy now gives all new parents up to 26 weeks of paid leave and Reddit offers all new parents up to 17 weeks of paid leave. Google offers up 18 to 22 weeks of paid leave for birth moms, but according to USA Today, other primary caregivers who are not birth moms get 12 weeks, and other caregivers, other than parents, get up to seven weeks of paid leave.
Paid parental leave continues to be an important topic, and San Francisco's recent mandate that guarantees new parents with six weeks of fully paid leave helps drive the conversation. But with the U.S being the only economically developed and advanced country to not mandate even paid maternity leave on a federal level, the conversation needs to continue. Especially since there's been a lot of research that shows that paid parental leave promotes health benefits like a decrease of infant mortality rates, and a promotion of better father-child relationships down the road, to name a few. But the federal law as it stands now, the Family and Medical Leave Act, provides 12 weeks of parental leave for businesses of 50 people or more, but it's unpaid.
And while the announcements of these tech companies extending their paid parental leave is important and encouraging, there are still some inclusivity issues to consider.
Who Is Benefiting Most?
Silicon Valley, the hub of the California tech industry, still struggles with a lack of representation in employment of people of color. According to a USA Today analysis in 2014, black and Hispanic employees made up 5 percent of the workforce in the leading tech companies. And, according to the U.S Department of Labor, only 12 percent of private sector workers in the U.S have access to paid family leave.
Even with access, it's important for employees to feel it's socially acceptable to take that time off. Twitter appears to be tackling that issue head-on. Laura Brady, Twitter's director of compensation and benefits, told Fortune that the tech company plans to train managers on how to manage work loads considering the new paid parental leave expansion. "Managers understand why this time is so valuable," Brady told Fortune. Yes, it is valuable, and hopefully more companies, cities and the federal government will follow suit.