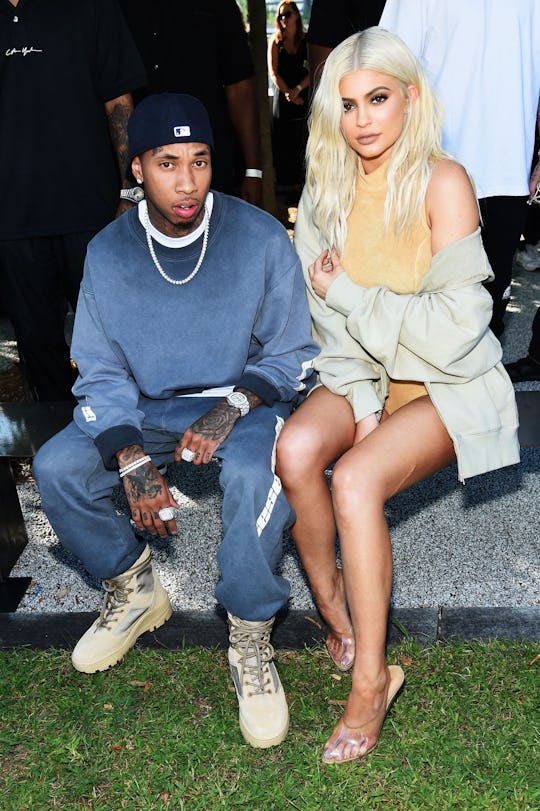 Jamie McCarthy/Getty Images Entertainment/Getty Images
Tyga Finally Set The Record Straight About Those Rumors Surrounding Stormi's Paternity
Kylie Jenner seems super happy to be a mother to her baby daughter, Stormi Webster. Her boyfriend Travis Scott has been a little less vocal about parenthood, but members of Jenner's inner circle have assured fans that he is an involved and supportive father. It's also clear that Scott was a big part of Jenner's top-secret pregnancy, as he made plenty of appearances in her birth announcement video, accompanying her to doctor appointments and attending family events. However, Scott's involvement hasn't done much to stop the couple's haters from spreading absurd rumors that Stormi's actual father is Tyga, Jenner's ex-boyfriend. The gossip has evidently finally hit a breaking point for the rapper, as Tyga just spoke out about the Stormi paternity rumors — hopefully putting them to rest once and for all.
"I've never said anything about someone else's child or family insinuating my involvement; and will never do so," Tyga tweeted on Monday afternoon. "Please, Stop spreading false stories and attacking people's families," he continued. "I have nothing to do with any of that. People should be able to live in peace."
Even though Tyga did not directly mention Jenner, many believe his tweet is in response to rumors that were flying over the past week.
Last week, Jenner posted a super cute selfie of her and Stormi cuddling in bed. A few hours later, as Capital Xtra noted, Tyga shared a photo of himself as a baby. One Twitter user even observed that Tyga seems to do this "every time Kylie posts a picture of her baby."
Based on the Twitter responses, it seems like people interpreted Tyga's baby picture as a subtweet, meant to show that Stormi resembled him. People tweeted that they thought the two looked alike, speculating (aka stirring the pot) that Tyga was actually the father of Jenner's baby.
Posting that baby picture isn't the only thing that fans think Tyga has done that incited rumors that he was Stormi's father. When reports first broke that Kylie Jenner and Travis Scott were expecting a baby, Tyga allegedly Snapchatted a screenshot of the news, captioning it, "Hell nah that's my kid," followed by the smiling devil emoji. The Snapchat was quickly taken down, and soon after, he said that the post was a fake story.
Editor's Note: The Instagram post has since been deleted.
Furthermore, a few days after Stormi was born, Radar Online reported that Tyga allegedly demanded to take a paternity test. "Tyga wants a DNA test because he really thinks that there is a chance this baby could be his," a "source close to the rapper" reportedly told the outlet. Rumors from unnamed sources should always be taken with a grain of salt, and at this point, it's safe to say that one wasn't much more than a rumor.
Not to mention, the rumors of Tyga being Stormi's father got so bad that Kylie Jenner's mom Kris Jenner had to comment on them. Earlier this month, Kris appeared on the radio show Kyle and Jackie O, where she was asked about the topic. As per Just Jared, host Kyle told Kris, "Tyga was chiming in saying maybe it was his baby." The momager responded:
Oh no, no no. I think that was just a bunch of silly rumors as usual... Yeah you guys know better than that.
All that being said, it seems like the rumors don't bother Kylie Jenner, considering she has not commented on them. As she noted in her pregnancy announcement on Instagram, she chose to keep her pregnancy from the public and from social media so she wouldn't be stressed. Her return to social media has been slow, as she's understandably busy with her new baby, so it isn't that surprising that she hasn't commented on the absurd Tyga rumors yet — and hopefully Tyga's latest statement means she'll never have to.
Check out Romper's new video series, Bearing The Motherload, where disagreeing parents from different sides of an issue sit down with a mediator and talk about how to support (and not judge) each other's parenting perspectives. New episodes air Mondays on Facebook.