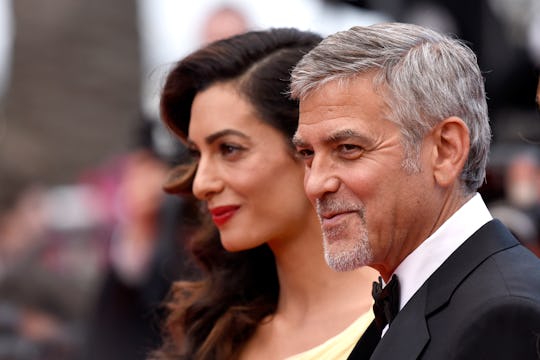 Clemens Bilan/Getty Images Entertainment/Getty Images
Updates On George & Amal Clooney Are Heartwarming
It's already old news that The Twins have arrived — no, not Beyoncé and Jay Z's twins — the Clooneys. What's new for the new family of four? Even though the arrival of the Clooney twins might seem a little less exciting than the arrival of the Knowles-Carter twins, updates on George and Amal Clooney after their twins birth reveal that life as new parents seems to suit them just perfectly. George and Amal Clooney welcomed their twins, Alexander and Ella, on June 6. They've had almost a solid two weeks of brand new parenthood under their belts, so how's that going? Not too shabby.
George Clooney celebrated his very first Fathers' Day on Sunday — and you can leave all your jokes about Clooney finally becoming a dad at home. Seriously, this is a super sweet moment for any first time dad, especially when the birth of one's children happens to fall so close to Fathers' Day. According to website Hollywood Life, Clooney celebrated Fathers' Day in the most relaxing way possible: Just he, his wife and the twins staying in bed all day. It's not as though the twins are old enough that Clooney can toss around a ball with Alexander in the backyard or have himself a tea party yet with Ella, so a super relaxing day at home with the family sounds like a pretty rad way to spend your first Fathers' Day with newborn twins.
According to In Touch Weekly, a source close to the couple said that Clooney was über emotional witnessing the birth of his twins. "He just melted. He couldn't say anything," the unnamed source said. "George knew he was going to get emotional, but this was just ridiculous. He was completely overwhelmed, crying tears of joy." Oh stop it — my heart literally cannot handle the image of Clooney weeping tears of joy at his children's birth.
Currently, the new Clooney family is in London, England, where Amal gave birth via a planned C-section. No word yet on when the Clooney twins will make their U.S. debut. As for now, everyone is happily recovering and adjusting to the new family dynamic overseas. Hollywood Life also reported that Clooney is a very "hands-on dad," including when it comes to diaper changes and midnight feedings. Wife Amal must certainly appreciate the help, because recovering from a C-section is no easy feat, let alone with two newborns demanding your attention.
As overwhelming as the first few weeks of life with a newborn can be — in the Clooney's case, two newborns — the couple has really taken to parenthood. Amal's mother, Baria Alamuddin, was present at the birth and was with them as they adjusted to their new life as parents. Speaking to People, Alamuddin said, "Seeing these two angels, these stunningly beautiful babies... cuddled together, and seeing the joy on Amal and George's faces, it's one of those deeply felt beautiful feelings you can't express in words."
Now that sounds just lovely. Parenthood looks mighty fine on George and Amal Clooney, and I can't wait to see the whole family grow up together.