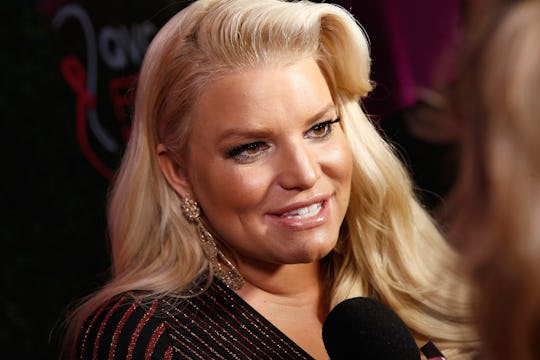 Brian Ach/Getty Images Entertainment/Getty Images
Jessica Simpson's 3rd Pregnancy Looks Like A Whole Lot Of Fun
As someone who has been pregnant four times, I can tell you that it is seriously different each time. That first pregnancy everything feels pretty new and scary and exciting. The second time around you tend to do a lot of compare and contrast with the first pregnancy (I don't remember throwing up this much, is this normal?). That third pregnancy? In my case, it felt more like its own thing, like I sort of knew how to deal with stuff. And I think Jessica Simpson's third pregnancy might be ticking along in much the same way. She seems to be pretty chilled out this time around and enjoying her time carrying her baby.
Simpson told the world that she and former NFL player husband Eric Johnson were expecting their third child back in September. The couple are already parents to 6-year-old daughter Maxwell and 5-year-old son Ace, and Simpson told her Instagram followers the family was expecting a baby girl the same day she announced her pregnancy news. As she captioned a photo of Maxwell and Ace with a pile of pink balloons, "This little baby girl will make us a family of five. We couldn't be happier to announce this precious blessing of life."
In the weeks since Simpson announced her pregnancy, she's been pretty generous with sharing her family's joy. Particularly the excitement of her older two kids, who are apparently "counting down the days" until they get their new baby sister, as the singer told Us Weekly:
It's fun because Ace and Maxwell are at an age where they understand what is happening. They are really cute waiting for their baby sister.
That's one of the real blessings of a third pregnancy, I think. Getting to share it with your older kids. And Simpson told People that her kids have loads of questions for her about the pregnancy that "constantly crack her up,"
They want to know every detail — like how milk comes out of mommy, how the baby will actually get here and if my belly button is a speaker to communicate with the baby.
Another great aspect of her pregnancy? Simpson is totally indulging in those sweet, sweet cravings. As she told Entertainment Tonight in October:
I crave everything! It's like, with a girl, I just want, like, Pop-Tarts and cinnamon rolls and cinnamon gummy bears and sour cherries.
Fortunately for Simpson Halloween just happened, the candy holiday to end all holidays. And can we just spend a moment enjoying her Halloween costume with husband Johnson this year? Simpson and Johnson went as Danny DeVito and Arnold Schwarzenneger from the classic movie Twins. Johnson was great, sure, but Simpson was next level brilliant as DeVito.
Yes, that's gorgeous blonde bombshell Jessica Simpson. And if you're wondering if she got her costume right, here's a picture of the original movie.
Do you see what I mean? Simpson is having a grand old time with this third pregnancy, hanging out with her kids and eating awesome candy and using this as an opportunity to totally own Halloween.
Sometimes in life, the third time really is a charm.