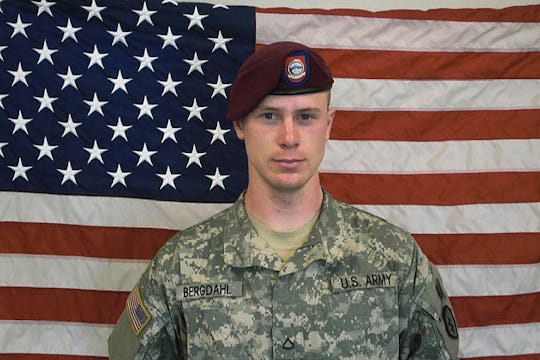 Was Bowe Bergdahl A Taliban Sympathizer? 'Serial' Host Sarah Koenig Doesn't Think So
On Thursday, the WBEZ and This American Life co-produced podcast Serial released its third episode, "Escaping." This week's episode covered Bergdahl's literal dark days in Taliban captivity and the harrowing details of his two escape attempts. Serial has circled back to a question on the minds of many since Bergdahl's release: Was Bowe Bergdahl a Taliban sympathizer? According to some of Bergdahl's platoon members, they believe he might have been — but Serial's own host, Sarah Koenig, doesn't think Bergdahl sympathized with the Taliban.
Bergdahl's story is a complicated tale, and while Serial season one played out like an interactive whodunnit, season two is far more nuanced: In season one, there were so many hard facts about Adnan Syed's case that still seemed to be up in the air almost 15 years later. Koenig interviewed Syed prison each week by phone, so his story was just as new to her as it was to us as listeners: Season one was intimate in that way.
In contrast, Season two of Serial covers the international story of then Pvt. Bowe Bergdahl: his army post desertion and capture by Taliban forces in 2009, and subsequent release in a controversial exchange for Guantanamo Bay prisoners in 2014. The facts of Bergdahl's case are largely known and documented; Koenig herself is listening to hours of previously recorded interviews with Bergdahl conducted by filmmaker Mark Boal. One of the many nuances of Serial season two lies Koenig trying to suss out why Bergdahl did what he did.
One of the many accusations laid against Bergdahl in trying to answer that question of motivation is that he secretly sympathized with the Taliban. When watching Bergdahl's proof of life videos, some of his fellow soldiers felt he was in clear violation of military code of conduct. After listening to the absolute gut-wrenching psychological and physical horrors of what Bergdahl went through in his first year of Taliban captivity alone — and the balls he had to attempt escape not once but twice — there's no doubt in Koenig's mind that Bergdahl absolutely did not sympathize with his captors:
To me, more than anything, moment in the mountain fortress puts all the talk about Bergdahl being a sympathizer to rest. Bowe did not sympathize with the Taliban. He loathed the Taliban — so much so that even when he's sick, when he doesn't have any food, when he's already been punished for escaping the first time (he knows what that's like), and still — he goes out the window.
(For context, Koenig is referencing Bergdahl's second escape attempt out a second story Taliban prison window.)
That's a pretty bold statement from Koenig, one that could put her once more on the hot seat as listeners wonder if she's sympathizing with her protagonist, a criticism leveled at her journalistic relationship with Syed over the course of Serial season one.
Koenig's leanings aside, there's no denying that, after listening to episode three of Serial, what Bergdahl went through was pure hell. Therein lies one of those nuanced question at the heart of his complicated story: Did Bergdahl deserve it?
Serial airs on Thursdays at 6 a.m. Eastern.
Images: U.S. Army/Getty; Serial/Twitter