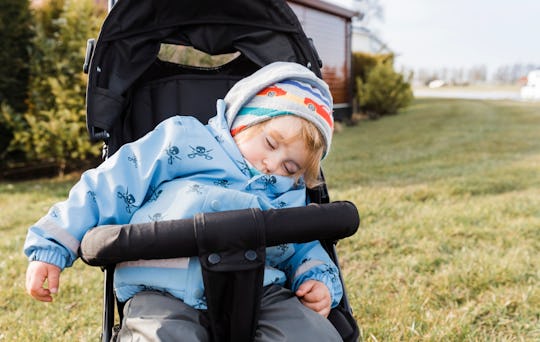 Shutterstock/riekephotos
Can We Stop Judging Parents For Putting Their "Big Kids" In Strollers Already?
I loved my stroller. It was cute, it was sturdy, and it lasted seven years and two kids. We built a lot of memories and habits with that stroller, too, and came to rely on it when attending any big family outing. It was only after I realized that schlepping it along was more trouble than it was worth that I finally sold it (and without telling my children, who used that thing until the bitter end). Yes, they were big kids in a stroller and I regret nothing.
"OMG why is that child in a stroller? WALK!"
"When I have kids I will never let them use a stroller beyond the age of 14 months and 27 days."
"There's no reason that kid needs to be pushed around when they have perfectly good legs they can use."
"Can you believe some parents? That's the problem with this entitled generation you know. Back in my day our shoes were made of rusty nails and you couldn't have forced me in a stroller! I loved getting tetanus!"
Uh huh.
Look, why this is a thing is beyond me. But, yeah, it's a thing, because apparently it's a fact of modern human life that people will take literally any opportunity to judge someone, particularly if the "someone" in question is a parent. But, honestly, this is not a serious "issue" people. I know a lot of you may have some Very Big Feels about kids you've arbitrarily deemed "too big" to be in a stroller chilling in a stroller, but let me tell you why you need to calm down: