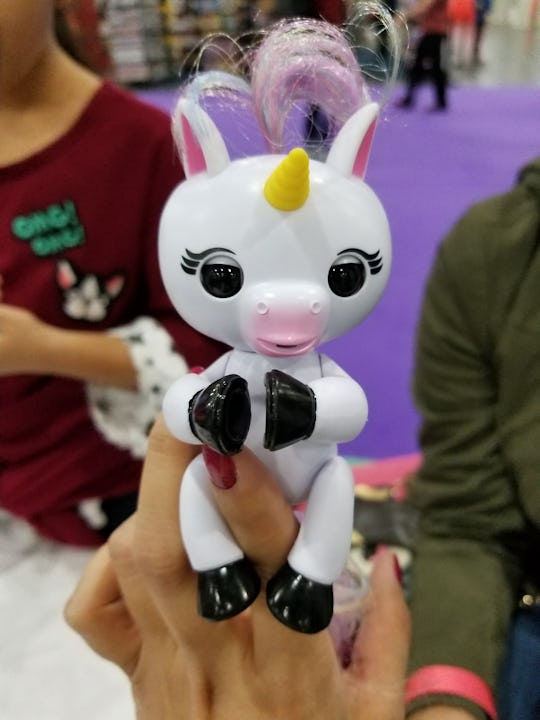 Courtesy of Mishal Ali Zafar
Here's How Old Kids Should Be To Truly Enjoy Playing With Fingerlings
Fingerlings have become one of the most sought after toys of the year. Kids all over the country are mesmerized by these adorable interactive monkeys, and parents are scrambling to get them in time for the holidays. But if you have very young or much older children, you may be curious about Fingerlings' level of safety and engagement. The last thing you want is to hand your kid a toys that's too complicated or too babyish, so what ages are Fingerlings appropriate for?
While the manufacturer of Fingerlings, WowWee, doesn't have an age range on their website, the actual boxes that Fingerling are packaged in state that the toy is appropriate for children ages five and up. The reason may be because Fingerlings are powered by small watch batteries, which could be a choking hazard for toddlers who like to put everything in their mouth. Another reason may be that because Fingerlings are essentially little robots, they could potentially break with rough toddler play.
For children five and up, Fingerlings should be lots of fun to play with. These tiny interactive toys come in a variety of characters and colors, including Kingsley the Sloth, Gigi the Unicorn, and six monkeys: Bella (pink), Boris (blue), Finn (black) , Mia (purple), Sophie (white), and Zoe (teal). All Fingerlings come with pretty much the same features, minus a few change in sounds for the different animals, and they can all cling or hang onto your child's finger, school bag, notebook, or any other clingy surface your kid can think of.
The ease of play is what makes Fingerlings great for young kids (five and up), and their cute and fun interactions can make them appealing to older kids. Each Fingerling comes with two sensors on its head which prompt reactions to touch, sound, and gestures. When your child talks to them, they may blink their eyes while they turn their heads side to side. If your child blows a kiss, their Fingerling will blow a kiss back, and if they gently rock them, their Fingerling will fall asleep and snore. For extra kicks, Fingerlings will even burp and fart, which is sure to make any kid (or adult) giggle.
If you've managed to get one somehow, kudos to you. Fingerlings have been super hard to find in stock online and in stores, other than from resellers on sites like Ebay and Amazon. The times that they do get restocked, they sell out right away. And they're not selling out because of all the eager parents buying Fingerlings for their kids, they are selling out because scalpers use software to buy them before anyone else can.
Some stores, including Toys "R" Us and Amazon Books stores manage to get some inventory into their stores every now and then, but you may have to keep checking to see where and when they become available. If you do find out your local stores are stocking them, head in early enough so you can grab one before they sell out.
And if you aren't able to finagle a Fingerling at its $15 retail price, you can always buy one from a reseller. On Ebay, you can find an abundance of Fingerlings stock being sold at double and triple the original price. You may even be able to find some from resellers on Amazon, but just remember that they can be fake listings, so check out the seller's rating before you buy.
So while they may not be appropriate for kids under the age of five, Fingerlings can be fun for kids that are a little more mature with their play. Always remember that toys with small batteries can be choking hazards for younger children, and safety should be a priority when choosing what toys they play with.
Check out Romper's new video series, Romper's Doula Diaries:
Watch full episodes of Romper's Doula Diaries on Facebook Watch.