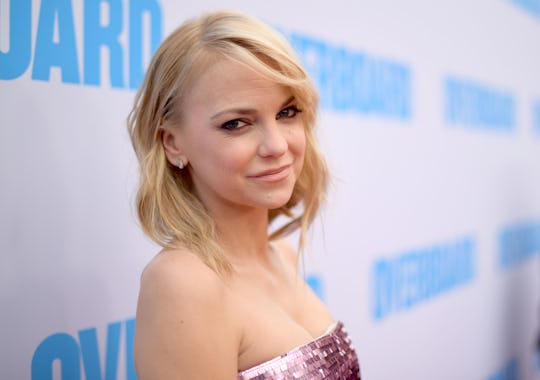 Matt Winkelmeyer/Getty Images Entertainment/Getty Images
Anna Faris' Dream Mother's Day Gift From Her 5-Year-Old Son, Jack, Is Totally On Point
When your kids are little, Mother's Day is kind of a bust. Like, sure, handmade popsicle stick picture frames and elbow macaroni necklaces are great craft projects and you love every single one your kids make for you, but they aren't exactly treasures you really want to keep around the house. Which is exactly why what Anna Faris wants for Mother's Day from her son, Jack, makes so much sense.
Faris, who is currently promoting her movie Overboard, told Entertainment Tonight that she knows exactly what she wants this year from her 5-year-old kiddo. The actor jokingly told the outlet, "I would like to celebrate Mother's Day by getting, like, a sweet, little snuggle in the morning by Jack. Then having him run away for the rest of the day!"Sounds like a nice plan, right? Kids are great and all, but sometimes a little space is everything you need.
As Faris mentioned in the same interview, it sounds like she's starting to hit the stage of parenthood in which the novelty has properly worn off. "You know, they get to an age where the obnoxious things stop being cute," she told Entertainment Tonight. "Like, first when they draw on your wall and you're like, 'Oh yeah, that's kind of charming because my kid might be an artist.' And then when they do it later at five and a half, you're like, 'No, no. Not so cute anymore.'" A quick, very cute snuggle and a babysitter does sound like the perfect Mother's Day plan in that case.
Faris added that Jack's not only perfecting his wall drawing, but some other hobbies, too. But some of them worry the 41-year-old mom, who announced she and Jack's dad, Chris Pratt, were splitting up back in August 2017. Faris told Us Weekly at the Overboard premiere:
He does little acting lessons now. He'll be like, "Mom, watch how scared I can look." Or he'll give me a weird fake laugh. It's really fun to see the performance element come out in him. But I'm also like, "Please don't go into acting!"
She added that Jack does make her laugh. "He's really funny, I think. Well, that's sort of patting myself, I mean ourselves, on the back. But he's really funny!" Although she told Us Weekly that she does worry about karma when it comes to parenting since she was a "hellish" daughter to her parents. But it sounds like Jack is actually a lot of fun to be around. Divorce is never easy, but Faris and Pratt seem to know what they're doing. Or at least are open to making it work, even when it totally sucks. Faris told E! News back in January:
He's surrounded by so much love. And I think that we just constantly reinforce what a great kid he is ... I think that the key is surrounding him with a lot of joy and happiness, which he has a ton of.
Pratt echoed that sentiment earlier this month. He told Entertainment Tonight that much like when your kid draws all over your foyer walls, divorce "sucks." The actor added:
But at the end of the day, we've got a great kid who's got two parents who love him very much. And we're finding a way to navigate this while still remaining friends and still being kind to one another. It's not ideal, but yeah, I think both of us are actually probably doing better.
It's really refreshing how Faris and Pratt are so down-to-earth and open about their relationship, because pretending like marriage, divorce, and co-parenting is a breeze doesn't do anyone any good. Divorce does suck, even when you're a huge Hollywood couple and have a perfect little 5-year-old kid to snuggle with. But the family seems to be making the best of a hard situation, just like everyone else out there. I bet Faris gets everything she wants for Mother's Day this year.
Check out Romper's new video series, Bearing The Motherload, where disagreeing parents from different sides of an issue sit down with a mediator and talk about how to support (and not judge) each other's parenting perspectives. New episodes air Mondays on Facebook.