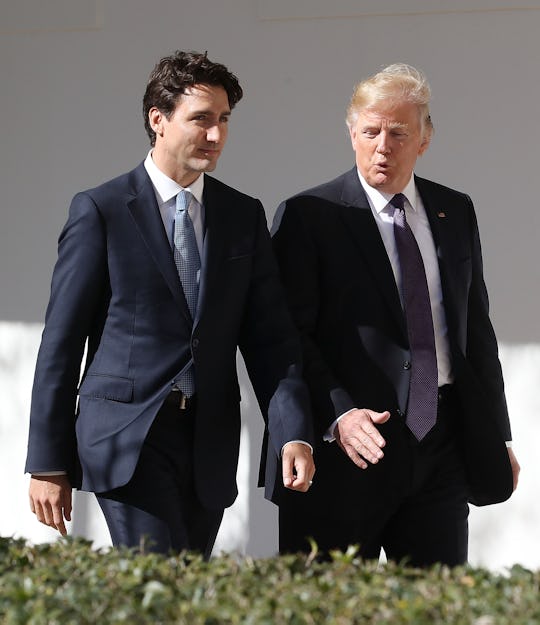 Mark Wilson/Getty Images News/Getty Images
Here's What Justin Trudeau & Trump Discussed
The two world leaders could hardly be more ideologically opposed, but they also run the two countries that share the largest trade relationship in the world. So, when the prime minister of Canada and the United States' new president met for the first time in Washington on Monday, there was a careful, balancing act at play, alongside the need to establish a productive and mutually beneficial working relationship. And, as expected, Justin Trudeau and Donald Trump talked about maintaining their countries' close economic ties. Still, the two men's wildly differing stances on issues like immigration and climate change (Trudeau believes it's a real threat) make for a precarious clash of values.
Despite these differences, the two "shook hands heartily" while "patting each other on the shoulder with their free hands" ahead of their first face-to-face meeting at the White House, The New York Times' Ian Austen reported. And when they emerged, they both claimed success. "We affirm the importance of building on this existing strong foundation for trade and investment and further deepening our relationship, with the common goal of strengthening the middle class," they said in a joined statement after meeting, the Times reported. "We are indispensable allies in the defense of North America and other parts of the world, through NATO and other multilateral efforts."
Before Trudeau traveled to the United States capitol to meet with Trump, CBS News reported that the liberal prime minister was likely to stick to discussion points focused on the Canada-U.S. trade relationship, as the United States receives three-quarters of Canada's exports. With Trump having already gone after Mexico by threatening to force the country to pay for the construction of a wall along its border with its country to keep out illegal immigrants by imposing an import tax, Trudeau was intent on protecting the existing trade agreements and partnerships with one of Canada's closest allies.
Still, Trump — who has been accused on sexual assault many times over (claims he denies) and Trudeau — a self-described feminist whose Cabinet is 50 percent female — also participated in a roundtable discussion aimed at supporting working women. From the effort, which included female executives from both countries, a task force called United States Canada Council for the Advancement of Women Business Leaders-Female Entrepreneurs was formed, according to Quartz. Reportedly, the Canadian government approached Trump with the idea, and Trump's daughter Ivanka Trump worked to arrange it.
Trump has assiduously refrained from criticizing Trump, but their views on many issues that affect much of the world could not be farther apart. And even though Trudeau was not expected to delve too deeply into these differences during his first meeting with Trump, the Associated Press reported last month that he did intend to bring up the issue of immigration. Specifically, Trump's executive order to temporarily ban people from seven Muslim-majority countries from entering the United States and to suspend its refugee program. Now, the controversial move is held up in court, having been blocked during litigation.
Trudeau, who has has welcomed nearly 40,000 Syrian refugees since his 2015 election, pledged to accept those the United States rejects. "The Prime Minister is looking forward to discussing the successes of Canada's immigration and refugee policy with the President when they next speak," Trudeau spokeswoman Kate Purchase told The Associated Press in late January.
Whether Trudeau did actually address any such subjects privately is not yet known, although the two talked about their differing viewpoints at an ensuing joint press conference. But because he and Trump reaffirmed the partnership between the United States and Canada Monday, there will no doubt be many more talks and chances for debate in the future.