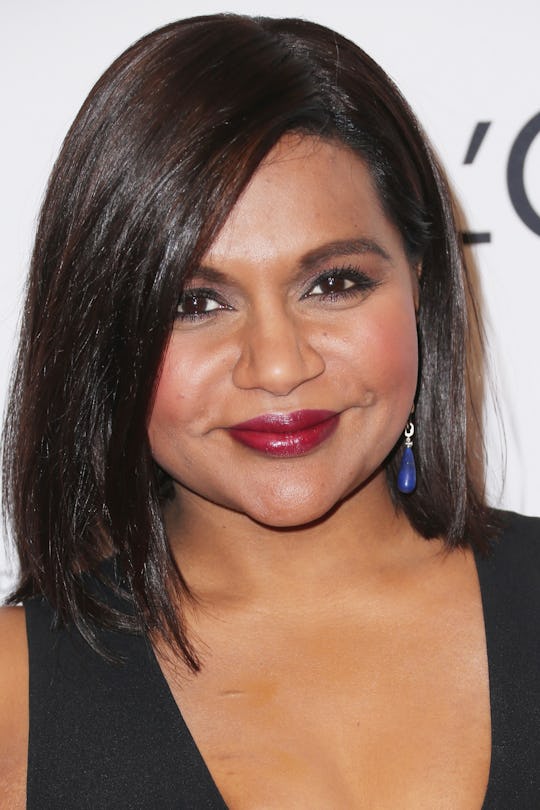 Frederick M. Brown/Getty Images Entertainment/Getty Images
Mindy Kaling's Daughter Has The Most Classically Beautiful Name
Just a few months after none other than Oprah Winfrey confirmed to all the world that her friend and A Wrinkle in Time costar was indeed pregnant, Mindy Kaling has welcomed a baby girl. The little girl actually arrived Dec. 15, (sadly, not by way of Oprah, unlike the former announcement), so fans are excitedly catching up on the details. Namely, anyone who loved her in The Office or The Mindy Project definitely wants to know what Mindy Kaling named her daughter and when a photo of her will be available to go awwww over.
On Tuesday, E! News first reported that the actress had welcomed her new daughter into the world and had chosen the most classically beautiful name for her: Katherine. And while there's no news yet on when Kaling may start showing her off on Instagram, there's no doubt that the actress and producer is more than ready to become a mom for the very first time. In fact, she knew she wanted kids long before rumors started to swirl that the dream was about to come true in July, as she told Yahoo! News back in 2015 that she had decided "to be fast and loose about kids ... I'm going to not actively plan, but if it happens, it would happen," the now-38-year-old said at the time.
Romper's request for comment from Kaling' reps was not immediately returned.
And, when E! News first reported her pregnancy a couple of years later, one unnamed source shared that it had been "an unexpected surprise." But for Kaling, another major suprise came a little more than a week afterwards when none other than the Oprah Winfrey publicly talked about the moment that Kaling had told her she was five months pregnant — before Kaling herself had publicly confirmed the news. It turns out that Kaling was pretty surprised that Oprah did that, as she said in a subsequent interview with Ellen DeGeneres:
I had told Oprah and Reese [Witherspoon] on a movie we're working on, A Wrinkle in Time, and she announced it at press. She was very excited. At first it was like, 'OK, if anyone was going to announce big news about your private life, Oprah Winfrey is the person. You can't complain that much about it.
In the same interview, and perhaps even more importantly, Kaling shared that she was expecting a baby girl. Since that big reveal, Kaling hasn't shared many details about her pregnancy — including who is the father of the infant we now know is named Katherine.
In fact, word on the street is that Kaling doesn't intend to reveal who the father of her daughter is. After the news of her pregnancy broke in July (but before Oprah spilled the beans), an anonymous source told People as much:
She just started telling her friends she is pregnant. She is not telling anyone, not even close friends, who the father is.
It goes without saying that Kaling will probably choose not to share that information with Oprah unless she's ready for another public reveal. In all seriousness, though, it's obvious that Kaling will make an awesome mom to her little girl. In a recent interview on the TODAY show, she revealed that she thinks that she will end up being "the dorky mom." But when Katherine grows up and realizes all her mom as accomplished — included starring in the upcoming Ocean's 8 and Ava DuVernay's A Wrinkle in Time, not to mention creating and starring in her very own TV show  — chances are that Katherine will realize what the rest of us already know: That her mom is really freakin' cool.
Check out Romper's new video series, Romper's Doula Diaries:
Watch full episodes of Romper's Doula Diaries on Facebook Watch.