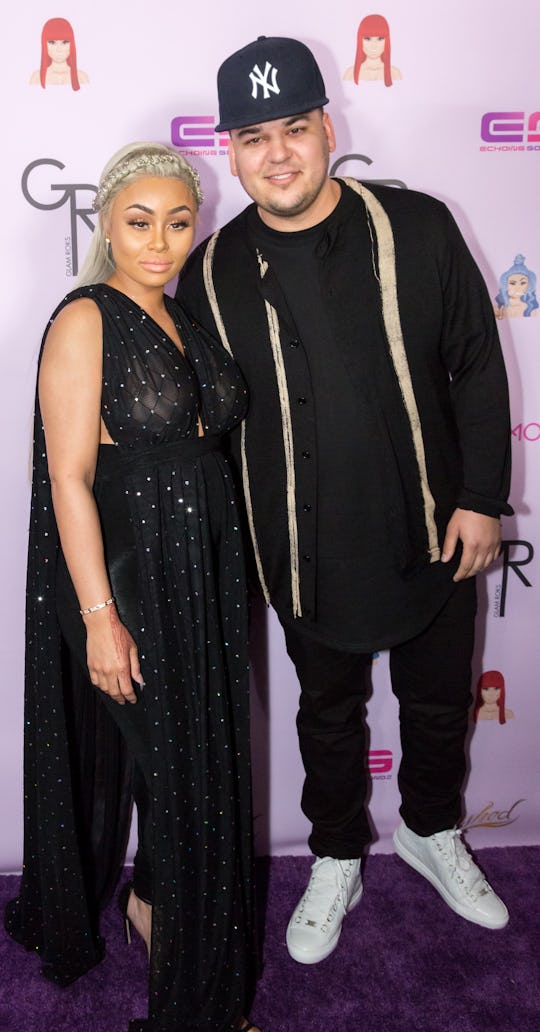 Greg Doherty/Getty Images Entertainment/Getty Images
What Does Blac Chyna's Instagram About Rob Mean? It Might Involve Their E! Show
Their romance isn't even a full year old yet, but Rob Kardashian and Blac Chyna have already been through more ups and downs than most other "real life" (non-reality TV) couples who have been together for decades. Since they began dating in January, Chyna and Kardashian have gotten engaged, had a child, and launched a reality series – with on-air blowout fights and breakup rumors peppered in between. Being a reality TV couple, their drama-filled romance makes for a seriously addictive viewing experience. But now, fans are in a tizzy over Blac Chyna's mysterious Instagram post about Kardashian.
Chyna has been particularly active on Instagram over the last week. This boom of social media activity makes sense – the pair have been promoting the Rob & Chyna baby special that's airing on E! on Sunday, nearly two months after the first six-episode season of their series aired and over a month after little Dream Kardashian was born IRL.
The new parents have been quite the news-makers this week. On Monday, Chyna posted a video of Rob reacting to the black Range Rover she bought him. Later that same week, Chyna did what all new moms are wont to do after pregnancy – she switched up her 'do. The model/reality star debuted her new long blonde dreadlocks (also on Instagram) on Tuesday, and yesterday posted a series of super-sultry bombshell photos from one of her old photoshoots.
Everything seemed to be going smoothly in Kardashi-land, with the two showering social-media-affection over each other and their adorable new baby daughter for the past several days. Of course, that all came to a screeching halt when Chyna posted a very mysterious screenshot of a note message on her Instagram account.
Uh oh. "I have some things I want to get off my chest about how I truly feel about Rob," the text read, with an ellipsis trailing off at the end and signaling that there would be more to come. The post racked up nearly 5,000 comments in just two hours, with fans and haters alike frantically theorizing about whether the note was precipitating a gushing and affectionate declaration of love or Chyna about to go completely and publicly off on her fiancé for some yet-unknown reason. It's the "truly" that's freaking everybody out, especially given some viewers' unfounded and crude accusations about Chyna having an underhanded reason for having hooked up with Kardashian to begin with.
As of the latest check, Chyna has yet to follow up on her mysterious post. It's very possible that this is just clever social media marketing for their show. The first season ended in October, but their baby special is set to air on Sunday, and E! just renewed Rob & Chyna for an eight-episode second season yesterday. We'll just need to wait and see whether Chyna is about to unleash a bunch of affection or a tirade of anger unto Kardashian and the internet at large – possibly until Rob & Chyna Season 2 premieres in 2017.