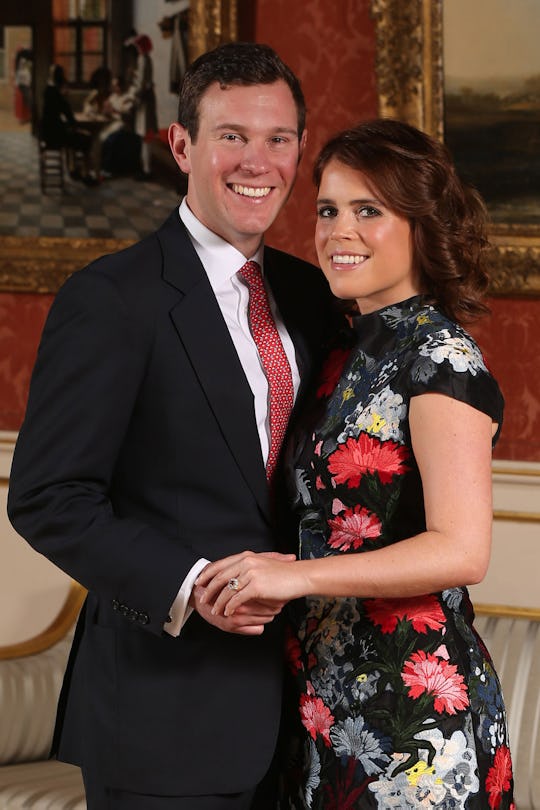 WPA Pool/Getty Images Entertainment/Getty Images
What Does Jack Brooksbank Do For A Living? He's Connected To Hollywood
In just a week, Princess Eugenie will walk down the aisle of St. George's Chapel at Windsor Castle to wed her longtime boyfriend. Of course, fans of the British Royal Family want to know everything about the queen's granddaughter and her betrothed before watching the couple tie knot. One question on their minds: What does Jack Brooksbank do for a living? It turns out the groom-to-be has ties to a big Hollywood star.
Brooksbank has long worked in the hospitality industry, having once managed Mahiki, a popular celebrity nightclub in London, according to Town & Country. But Hello Magazine reported in January that the 32-year-old soon-to-be royal was appointed as the UK Brand Ambassador for Casamigos, a tequila brand co-founded by actor George Clooney, along with friends Rande Gerber and Mike Meldman. Brooksbank has held that position since 2016.
But before joining Casamigos, the tequila ambassador worked at Tonteria, another club located in London, according to Hello. That venture also has big name ties: Hello reported that Brooksbank was approached Tonteria's owners, Marc Burton, one of his former colleagues, and Guy Pelly, a businessman who happens to be a close friend of Prince William and Prince Harry. They had wanted Brooksbank's help to launch the venue.
Brooksbank, who also owns Jack Brooksbank Ltd, a company that distributes alcoholic drinks, had said of his move to Casamigos, according to Hello:
I am thrilled to be part of the Casamigos family. It is a very exciting time for the brand in the UK as the consumer mindset of the tequila category is shifting. People no longer see tequila purely for shooting but choose quality ultra-premium sipping offerings, with Casamigos leading the way due to the unique production methods, smooth taste and 'no burn' of our award winning expressions.
Guests at Princess Eugenie's royal wedding, which takes place in the wee hours of Saturday, Oct. 12, can expect to see Casamigos among the liquor options during the receptions. The post-ceremony shindigs will take place at Windsor Castle and Royal Lodge, according to The Daily Mail.
And that's directly from Brooksbank's mouth. When asked about his role in the wedding planning, the hospitality professional told The Daily Mail:
I've not been kept out of all the planning. I get to decide some things. I'm in charge of drinks and we'll be serving Casamigos... I can't say if George Clooney is coming.
I know a few brand ambassadors, and one thing I've learned from them is that you always take advantage of an opportunity for promotion. So I'm not surprised Brooksbank has plans to serve Casamigos at his wedding.
Understandably, Brooksbank is nervous about his upcoming nuptials. The groom-to-be, who has dated Princess Eugenie for seven years, said recently about the wedding, according to Cosmopolitan:
I'll need to take a few minutes for myself before the speeches because I'm terrified. It's very exciting but I'm a little bit nervous.
In all seriousness, who could blame him? I, myself, have never been married, but I could imagine tying the knot to your longtime partner is as nerve-wracking as it is wonderful.
And speaking of tying the knot, fans who want to watch Princess Eugenie's royal wedding will have to wake up at 4:25 a.m. Eastern time, which is 11 a.m. BST, to catch the ceremony live. If you prefer to sleep in, don't worry: TLC will air an encore presentation at 7:25 a.m. Eastern time.