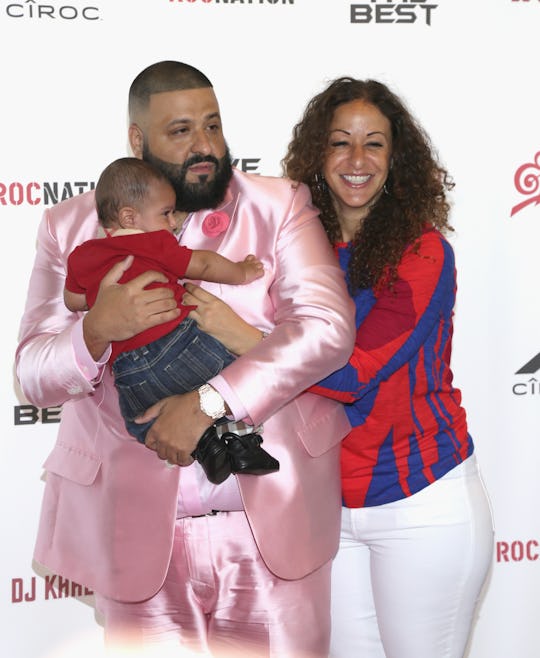 Jerritt Clark/Getty Images Entertainment/Getty Images
Nicole Tuck Is One Busy Woman
DJ Khaled is all over the place promoting the recent release of his album Grateful, and his baby son is an integral and endlessly endearing part of the publicity blitz. Eight-month-old Asahd Khaled graced the stage with his dad at the 2017 BET Awards last month, he appears in the all-star music video for "I'm the One," he's all over social media, and he even has an executive producer credit on Grateful. But there's a third member of the family who takes more of a behind-the-scenes role beyond the limelight: Khaled's fiancée, Nicole Tuck. At this point it's pretty much impossible not to know what DJ Khaled and little Asahd are up to, but what does Nicole Tuck do?
Tuck and Khaled reportedly dated for years before getting engaged, and are now partnering to raise their son from a "beautiful, healthy young icon" into a thriving young man. She's clearly dedicated to that job, judging by the many adorable photos she posts of Asahd on her Instagram, but her posts show that she maintains other interests and pastimes as well. She promotes the work of charities such as Hope For Harvest. She documents her travels to locales like Los Vegas and Santorini. And, according to her LinkedIn page, Tuck is pretty highly educated: She's earned a Bachelor in Fine Arts degree from Marymount Manhattan College and a Masters in Education from Fordham University.
Tuck's major professional pursuit was the launch of her own clothing line, ABU Apparel, which she called on LinkedIn "Post-modern streetwear for Independent, Fashion-Forward Individuals." The line is reportedly no longer operating. Tuck's still clearly a busy woman, however: In addition to being a new mom, Tuck works in an unofficial capacity as her fiancé's business manager and rep, the International Business Times reported. That's a job that probably requires the patience of a saint, as DJ Khaled went ahead and Snapchatted his son's birth back in October.
But DJ Khaled does realize all Tuck does for him and Asahd, as he explained in a recent VH1 video:
You know, no words can describe the love that [Tuck] has for my son and her son, and it's our son, it's our family. So, there's really no words that can explain it. It's just something that I see and I feel when my son smiles. It can be Nicole feeding my son, or changing my son, or going swimming with my son, or just the moments that they're just talking to each other and hugging each other. It's that smile. Asahd, my son, when she smiles, that's God smiling on us and also smiling on Asahd.
Whether it's the resurgence of the fashion line, more philanthropic promotions, another kid or two, or something else, fans can't wait to see what's next from Nicole Tuck.