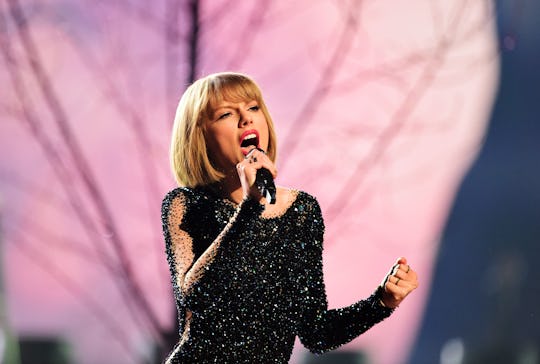 ROBYN BECK/AFP/Getty Images
Taylor Swift Tweets A Weird Snake Video & Fans Have ~Theories~
Last week, Taylor Swift scrubbed her social media accounts in a move that had fans wildly and excitedly speculating that her sixth studio album could be on the way. On Monday, the singer was back with a mysterious tweet: a 10-second video of a snake's tail. Forget the new music, what does Taylor Swift's snake tweet mean? Most likely, it's all connected — and the obvious plan to drum up some intrigue and lots and lots of attention is seriously working. And with the very strange snake video being the only social media post to Swift's name right now, fans are obviously seizing on it hard to try to uncover its hidden meanings.
The image itself is striking set against her otherwise completely blank Twitter page. Seriously, she has no other posts, no profile picture or banner, and she's following exactly zero other accounts. The outlook is the same on her Instagram, Facebook, and Tumblr pages, which are all also now home to the very, very weird reptile video, which has the choppy feel of a VHS recording.
As one of the biggest stars on the planet, Swift surely has the power to cause an uproar when she pulls a stunt like this.
The internet is full of theories and commentary about what the heck could be going on here. Like, of course Taylor Swift is shaking up the music universe hours before the highly anticipated solar eclipse is set to hit the East Coast.
And of course she'd choose to showcase what very much appears to be a snake, after her critics denounced her as one last summer following some drama involving Kim Kardashian and Kanye West.
But most importantly, does all this mean that, after the 2014 release of Swift's most recent album, 1989, #TS6IsComing is finally about to be a reality?
Of course, the widespread assumption that Swift is about to release some new music is gobbling up most of the Swift attention right now. After all, she's dropped other clues that this could be the case, according to Entertainment Tonight. First, some fans claimed recently that the coding on her now-blank website translated to "that's what they don't see" when they ran it through a cryptogram.
Also, Swift is reportedly set to make a Good Morning America appearance Aug. 13. Thirty-one is 13 flipped, and 13 is reportedly the "Shake It Off" singer's lucky number. Hmmmmm.
Finally, rumors are circulating that Swift will drop a single called 'Timeless" Monday at 2 p.m ET., according to People magazine.
Understandably, all of this is making it pretty hard for Swift fans to concentrate on anything but Swift news right now. Until Swift reveals her true intentions, the speculation will only intensify.