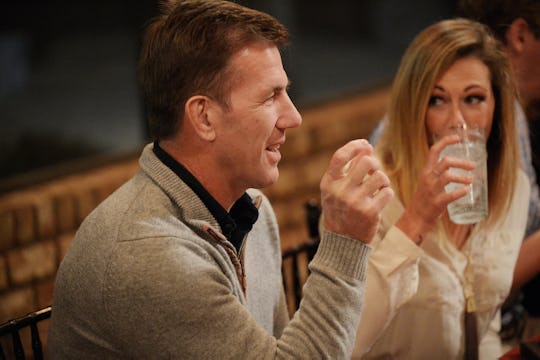 Jeff Gentner/Bravo
Ashley Jacobs Does Well For Herself Outside Of 'Southern Charm'
Part of the fun of watching most of the high society reality shows on Bravo is getting to live through these stars. Thomas Ravenel's new girlfriend on Southern Charm, Ashley Jacobs, is new in town and doesn't appear to be from old money like some of the other stars of the show. So what is Ashley Jacobs' net worth on Southern Charm? Although she's too new to have an official net worth calculated and out there for the world to see, I can make a pretty accurate estimate based on her career. It's not clear yet if Ashley has continued her line of work now that she's officially moved to Charleston, but back in Santa Barbara, California, she was a nurse and, judging from her Instagram posts, a dedicated one who spent literal years in her field.
Starting her new relationship with Thomas and relocating to the other side of the country might have put a pause in her career, but if her career is any indication of her potential net worth, then Ashley is doing pretty well for herself, even without a Southern Charm paycheck. According to GlassDoor, a registered nurse in Santa Barbara makes an average of $89,796 per year. The lower end of that is $73,000 with the higher end being $109,000. So whether she's on the lower or higher end of the spectrum, chances are, Ashley has done well for herself so far.
If Ashley plans to continue her work in Charleston, she's likely going to be looking at a significant pay cut, however. GlassDoor lists the average nurse salary in Charleston as $59,365, which still makes for a steady and fair income, but it's definitely lower than what she may have been making in Santa Barbara. As far as all of Ashley's assets go, other than just her salary from nursing, she could have been bringing in even more money thanks to what looks like a couple of different modeling opportunities on social media.
Although her Instagram isn't littered with professional modeling shots by any means, there are a couple of photos from a 2016 photo shoot on the beach that Ashley was a part of while promoting a spray tan business. There aren't any other similar instances of Ashley working as a model, at least on her social media accounts, but there is a chance that she's done some modeling on the side, which would only add to her net worth today.
Since Ashley is such a new addition to Southern Charm and isn't quite an official regular cast member yet, there's not much known about her outside of what she's presented on social media and what fans have seen of her in the show. Because of that, there's no set net worth, but from her career as a nurse in Santa Barbara, it's safe to assume that she's done well for herself. Her Instagram and Twitter bios both still describe her as a nurse, so there's a chance that she'll continue with work once she's more settled in life in Charleston and on TV. And if she starts to see paychecks from Southern Charm, and starts gaining more Instagram followers just from being on the show, then there's no doubt that Ashley's net worth will quickly climb into the six digits.
Ashley might not yet be at the level of some other Bravo reality stars, like, say, Bethenny Frankel, but she's still doing pretty well for herself even without the fame that Southern Charm will inevitably bring.
Check out Romper's new video series, Romper's Doula Diaries:
Watch full episodes of Romper's Doula Diaries on Facebook Watch.