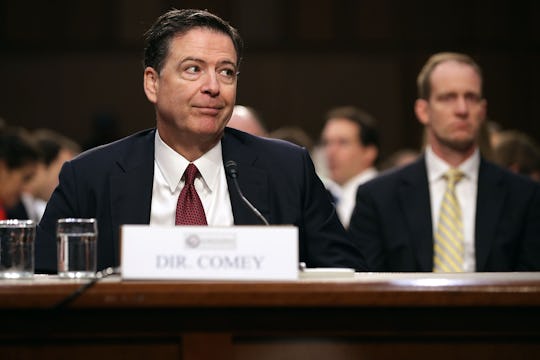 Chip Somodevilla/Getty Images News/Getty Images
James Comey Is Writing A Book, So Get Your Popcorn Ready
There are only a few things politicians and public servants do once they leave Washington D.C. They either get a deal with cable news, escape into their personal lives and live happily ever after, or write tell-all books. On Wednesday, the Associated Press reported that former FBI director James Comey is planning on the latter. Since being fired by Donald Trump in May, some political junkies have been dying to know if Comey would spill the beans about his last months in office. So what is James Comey's book going to be about exactly?
It's hard to tell. According to a release from Flatiron Books, an imprint of Macmillan, the book will be an "exploration of what good, ethical leadership looks like and how it drives sound decisions." Comey will allegedly use examples "from some of the highest-stakes situations in the past two decades of American government" and share "yet-unheard anecdotes from his long and distinguished career."
So basically, it could be about pretty much anything. Comey served as FBI director from 2013 until 2017, but before that he was a U.S. Attorney in New York and also served as the Deputy Attorney General under President George W. Bush. So yes, his career is certainly "long and distinguished."
But let's be real: people want to know about the Hillary Clinton investigation during the 2016 election, the FBI's investigation into Russia and the Trump campaign, and now legendary meetings with Trump, which he testified to documenting with memos, that might have led to his termination.
Comey's expected to get about $9 million for the book, which is slated to come out next spring — likely just around the one year anniversary of his firing. Which means that anyone looking for all the deep dark secrets about the Russian investigation, his opinions about the Trump administration, or Clinton's emails might be disappointed.
His book will obviously be vetted by legal teams to ensure that nothing classified is included in the book, which means that anything pertaining to the FBI's Russia investigation or the nitty gritty details of Clinton's emails will likely have to be cut out. Unless of course, the FBI somehow concludes the Russia investigation this fall or declassifies documents from the Clinton email investigation. (The Clinton email investigation was closed in November 2016.) Really, anything can happen between Comey signing his book deal this week and its release date.
However, Americans know that Comey took copious notes throughout his career, especially in the months leading up to his firing by the president. During testimony earlier this summer, Comey insinuated to the Senate Intelligence Committee that he believed he was fired for not doing the president's bidding.
So, although Comey might not be able to go into too many details about the past year or so, the former FBI director obviously knows a thing or two about what "ethical leadership" should or could look like. In any case, his book will surely be a must-read next summer. Even if people will be reading between the lines to get a hint of of the 2016 election drama.