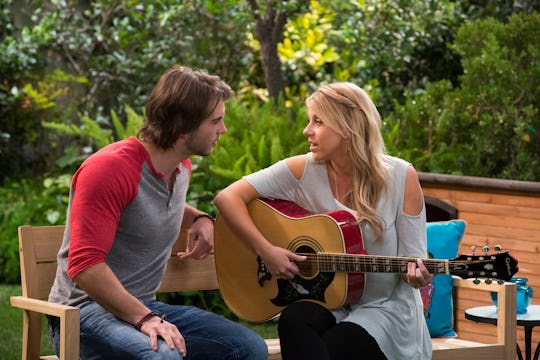 Michael Yarish/Netflix
What Is Jodie Sweetin's Singing Background? The 'Fuller House' Star Is Very Talented
Perhaps one of the best surprises Netflix's Fuller House reboot has to offer is the revelation that Jodie Sweetin, the actress who played middle sister Stephanie Tanner in the original series Full House, is actually a serious triple threat performer — and the series makes use of her considerable talent! First, Fuller House gave her plenty of opportunities to make use of her dance training from her recent stint on Dancing With the Stars with no less than three dance numbers in Season 1. But what is Jodie Sweetin's singing background? Season 2 gave her a single available for purchase on iTunes.
Back in Season 1, we heard Steph sing "Forever," Jesse and The Rippers' old hit song, during the pilot when she stepped up to the mic while Uncle Jesse was performing. Then, this season, we saw her playing around on the guitar with her own music, penning a song called "The Boy Next Door" for Jimmy Gibbler — Kimmy's brother who becomes Stephanie's love interest. She then proceeded to play with her old childhood band Girl Talk, alongside D.J. (who filled in as drummer), Kimmy, and Marla Sokoloff, who reprised her role as Gia. They only had one hit song, too (a cover of Ace of Base's "The Sign"), but Steph took lead vocals on it.
Other than the singing she did on the original Full House, Sweetin does have some other vocal credits to her name. Right before she did the sitcom at the age of five, Sweetin booked a national Oscar Mayer commercial where she sings the jingle. It's pretty adorable. She also went on to perform musical theater in high school after Full House wrapped. In fact, she attended Los Alamitos High School in Los Alamitos, California at the same time as Glee actor Matthew Morrison, and they performed together in their high school's musical theater program. Back in 2010, when John Stamos was a guest star on Glee, Sweetin told Hollywood Life in an interview that she'd love to swing a Full House reunion on the Ryan Murphy show.
"I would love to do something like that! I mean Glee looks like a ton of fun," she said, adding, "But you know, people have wanted a Full House reunion for years There is always the talk of it, and if it was done on Glee that would be lots of fun."
Of course, it never came through on Glee, but it looks like her wish for a very musical Fuller House reunion came true after all.