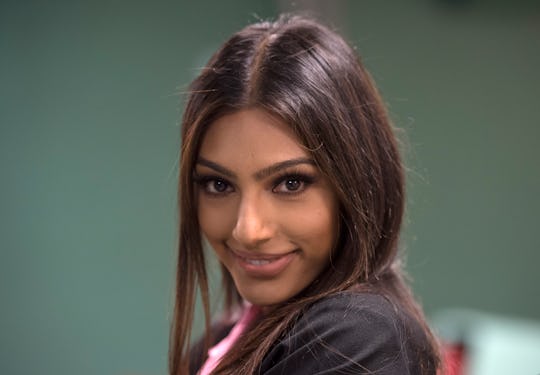 Paul Hebert/ABC
Here's What Marikh Is Doing Now That 'The Bachelor' Is Over
Sometimes on The Bachelor, when you don't get the guy, getting a handful of new best friends is like the perfect consolation prize. And while I don't know for sure if Marikh Mathias ended up with Arie Luyendyk Jr. or not, it's safe to say that she left the show with some lasting friendships. So, what is Marikh doing now after The Bachelor? She's kept in touch with some of the other women, as contestants often do, but dare I say that some real friendships may have resulted from her time on The Bachelor?
Along with Seinne Fleming, Maquel Cooper, and Ashley Luebke, Marikh attended the Sundance Film Festival in Utah and they were all quick to post on Instagram about the shared trip. But even before that, Marikh posted a mini Christmas photo shoot with fellow Bachelor contestant Maquel with the caption "Can you guess who's naughty and who's nice? Either way, @maquelx and I are patiently waiting for Santa Baby." Seinne commented on the photo to say that both women are both naughty and nice, to which Marikh replied, "You know us well," so there were definitely some legit Bachelor friendships formed while filming that have stood the test of time away from the show.
Because being a contestant also entails lots of promotion once you've finished filming, it's not a rarity to see a group from The Bachelor or The Bachelorette become fast BFFs. And in some cases, those friendships far outweigh any potential relationship that might have been had with the Bachelor or Bachelorette in question. Earlier this season, at the end of Episode 2, Jenny Delaney was eliminated and did one of the classic walk-offs instead of saying goodbye to Arie. When he followed her to comfort her over what he perceived to be a rejection from him, she replied, "I'm not sad about you, I'm sad about leaving my friends."
It was one of those moments that became downright hilarious and it just further proves that more often than not, these women manage to make lasting friendships with each other, Marikh included.
Usually, if you make a lasting impression on The Bachelor (and to be honest, sometimes even if you don't), producers will then invite you to be a part of Bachelor in Paradise. From the time when The Bachelor filming ends, up until the summertime Bachelor Nation series, there's even more time for these former contestants to get closer, especially since no one can really understand the journey like someone who's already been through it.
But aside from spending time with some of the other women who may or may not have stolen Arie's heart this season, Marikh has also been promoting her new catch phrase of sorts. It's no "whaboom," a la Lucas Yancey on Rachel Lindsay's season of The Bachelorette, but the "glam-shaming" scene that was almost cut from The Bachelor actually introduced the world to a phrase that Marikh may not have created herself, but it definitely made for another great end credits scene.
At the very end of Week 4's episode, Marikh confronted Chelsea Roy about talking behind her back to Arie in regards to using the compass on their wilderness group date as a mirror. While Chelsea clearly didn't mean anything spiteful by the comment, Marikh insisted that Chelsea was "glam-shaming" her and she's managed to make light of it on both Instagram and Twitter, with a now-popular Bachelor hashtag of #glamshaming that a lot of fans now love. And to her credit, I'm pretty sure I'd want my hair to be on point during a date on national TV.
Since filming of The Bachelor ended, Marikh and a handful of other women from the show have managed to stay in touch and really bond. And if they made lasting friendships as opposed to an actual relationship with Arie, I'd say that's more than a fair consolation prize for them.
Check out Romper's new video series, Romper's Doula Diaries:
Watch full episodes of Romper's Doula Diaries on Facebook Watch.