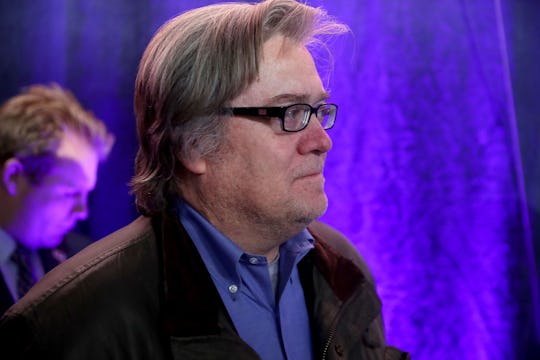 Chip Somodevilla/Getty Images News/Getty Images
What Is Steve Bannon's Net Worth? Wealth Has Propelled The Political Operative
Donald Trump has endured searing criticism for assembling an administration that, so far, is populated by incredibly wealthy men and women, some of whom are notable for their loyalty to the president-elect, as well as their reported racism. One of Trump's earliest picks, campaign CEO-turned-chief strategist Steve Bannon, represents the confluence of all three. Before heading up the Trump campaign, he was at the helm of the far-right platform Breitbart News, which regularly spouts racist and misogynistic (not to mention frequently misleading and inaccurate) articles, and his dangerous views coupled with his clout in conservative circles prompted Bloomberg to label him "the most dangerous political operative in America." But you don't earn such influence on (abhorrent) ideas alone, so Steve Bannon's net worth is another factor that's propelled him toward the White House.
For a man reviled by Trump critics as a proprietor of the so-called "alt-right" movement — which is just a cutesy name from white supremacy — Bannon amassed at least some of his wealth in a relatively innocuous, even serendipitous, way: by investing in Seinfeld reruns. Way back in the 1990s, before Steve Bannon attracted the acute ire of progressives with his ascension to the top of Trump's campaign in August and the subsequent enhanced scrutiny of his anti-women, anti-Semitic, anti-immigrant, anti-LGBT, anti-equality beliefs (Bannon hasn't responded to requests for comment regarding these beliefs), he was an investment banker, and wound up investing in five TV shows at the time that his firm, Bannon & Co., was helping to negotiate, according to Bloomberg. One of them was Seinfeld.
"We calculated what it would get us if it made it to syndication," he later told Bloomberg's Joshua Green, the author of what is perhaps the most definitive, comprehensive, and oft-referenced profile of the man. "We were wrong by a factor of five."
The Financial Times reported in 2013 that the sitcom had earned more than $3.1 billion in rerun royalties. It's unclear how much Bannon himself made off that, but consider this: Even if he owned just 1 percent of that, he's raked in about $32.6 million since 1998, according to Forbes.
Now, the website Celebrity Net Worth, which, as its name suggests, estimates celebrities' net worth using publicly available financial information and is then fact-checked by a team of writers and analysts, calculates Bannon's wealth at $20 million. It's not all Seinfeld reruns that got him there, of course: After selling his investment banking company in 1998, he worked in the media, working as a partner at a television and management company, as well as as the CEO of the American Vantage Media Corporation and Breitbart's executive chairman.
But the fact that Bannon got so rich off Seinfeld is the cruelest irony, because Bannon was been repeatedly accused of (and has denied) being anti-Semitic, and the show was created by Jerry Seinfeld, a Jewish New Yorker. Bannon reportedly once told his ex-wife he did not want his twin daughters going to school with Jews he called "whiny."
"When I first heard about it, it made me sick," Seinfeld co-creator Rob Reiner recently told The Daily Beast when he learned of the profit Bannon is making off the show. "It makes me sick."
Reiner isn't the only person disgusted by Bannon's riches and increasing prominence. It's an added insult for many that he'll be a fixture throughout Trump's time in office.