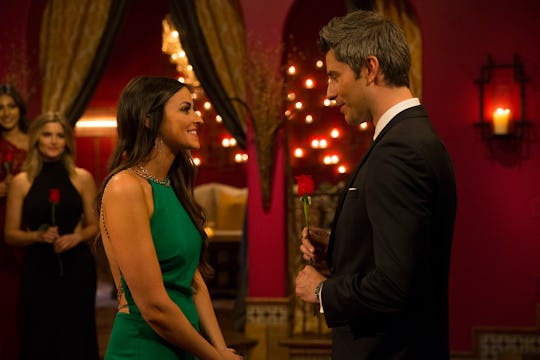 Paul Herbert/ABC
Tia From 'The Bachelor' Made A Lasting Impression On Arie
All of Arie's Bachelor contestants made quite an entrance during the Season 22 premiere, but Tia Booth, the Arkansas native who introduced herself with a "little wiener" really stood out. So what's her deal? Like, how does she know Raven Gates and what's Tia's job outside of The Bachelor? I have so many questions about her since I think her Bachelor pedigree might mean that she's sticking around. If not just for Arie, then definitely for another Bachelor Nation show.
Tia Booth is a 26-year-old physical therapist. According to OKHereIsTheSituation.com, she practices in Little Rock, but her Instagram is currently marked private, so it's hard to see if she posts any pictures about her work or has any side hustles. Then again, she might be open to carer possibilities. In Tia's official ABC bio, she says that her favorite show is Shark Tank and that her role model is Scandal's Olivia Pope, because she's a "badass." (True.)
So she might have more than just a little entrepreneurial spirit in her, which is likely something that Arie will like about her, given that he ditched race car driving and travel for a more steady real estate gig. Despite her super awkward "wiener" entrance, the couple already seemed to get along throughout the drama of the cocktail party.
Speaking of which, her bestie, Raven Gates from Nick Viall's season, must have given her some pointers about how to manage all of her other cast members. Despite Chelsea and some of the women trying to stir up drama, Tia remained pretty cool and collected. Just like our girl Raven did last year.
Raven posted about her BFF on Instagram, writing:
I finally get to announce that I'm handing over my Bachelor baton to my BFF @tiarachel91. my only advice: Just always remember you're not as bad as what your worst critic says you are and you're not as great as what your biggest fan says you are. Find the balance, enjoy the ride. I'm always in your corner.
Remember, Raven found love on Bachelor in Paradise with Adam Gottschalk and made it to the finals during Nick's season, so she definitely knows what she's doing. And if Tia is anything like her friend, she definitely knows how to have a good time.
When making her entrance, Tia said to Arie:
I know you're gonna have a lot of girls here tonight. And, it's gonna be hard to keep track of everyone, so I have a little gift. It's right here. It's actually a little wiener... um, yeah. Please tell me you don't already have a little wiener.
Arie didn't even miss a beat and joked that he did not already have a little wiener. According to her bio, her biggest fears are "bad conversations" and "awkward, no sense of humor," kind of guys. So it looks like Arie might have passed that test.
When Tia made her way into the mansion, Arie said under his breath, "I like her." Although fans might have been cringing, Arie might have fallen for it.
Of course, the season is just getting started and we still have way too many Laurens left to start taking actual bets on our Fantasy Leagues. But we do know that Arie does fall in love with two women by the end of the season. The 36-year-old former race car driver told People:
I fell in love with two women, and I didn't know I was capable of that. I've never been in that situation, and it was really hard. And they were two very different women, and that's what made it even harder.
Whether one of those women was Tia remains to be seen, though she'd be a great fit given that she already has an in with the Bachelor Nation alum, as does Arie. Luckily, you can be an Olivia Pope-loving physical therapist anywhere in the world, so if it comes down to it, Tia won't have to make location an issue. Hopefully she does Raven and Weiner, Arkansas proud.
Check out Romper's new video series, Romper's Doula Diaries:
Watch full episodes of Romper's Doula Diaries on Facebook Watch.