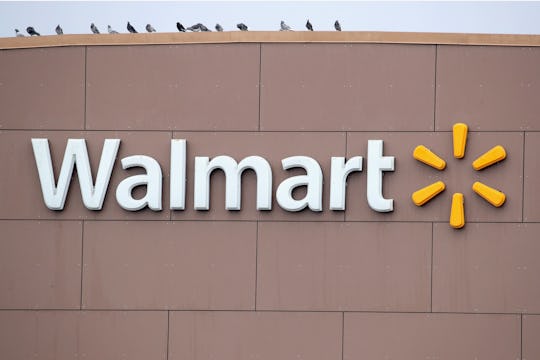 Scott Olson/Getty Images News/Getty Images
This Huge Retail Chain Will Be Open 24/7 For Black Friday Shopping
At this point, Black Friday has almost surpassed Thanksgiving in terms of holiday importance. That might seem like a blasphemous statement to some, but listen: I've never seen people screaming at each other over the last roll, but I have seen them get into it over a doorbuster priced television. Either way, Black Friday has become an integral part of Thanksgiving week, and some stores have all but perfected the Black Friday sale, Walmart being one of them. Any good bargain shopper wants to know what time Walmart opens on Black Friday the second sales start being announced, and I'm here to help.
Walmart is a fave of moms and price-conscious shoppers everywhere because of their low prices and easily accessible products, and the chain's Black Friday sales just make people love them more. If you were planning to get your shopping started with Walmart the second Thanksgiving ends, you might want to rethink your plans: the discount store of all discount stores is actually starting its in-store sale the day before Thanksgiving this year, a Walmart Rep tells Romper. The physical stores are scheduled to begin their Black Friday sale at 6 p.m. on Thanksgiving day. You can gobble down dinner and head on over for the shopping extravaganza.
Online on the other hand, Black Friday discounts go live at 10 p.m. EST on Wednesday the 21st, so you can actually start your Black Friday shopping while prepping the house for your Thanksgiving soiree. Bonus? The site offers free two-day shipping on orders over $35, BestBlackFriday.com reported, so you won't even have to wait long for the items you purchase online.
One very important thing to note is that Walmart is adding one major change to its Black Friday strategy this year: a shopping pregame for customers, which might just convince you to rearrange your dessert plans. The chain is hosting in-store Thanksgiving parties beginning at 4 p.m. on Thanksgiving day, featuring free coffee and holiday cookies, in the hopes to bring even more shoppers to their stores on turkey day. Light refreshments aren't the same as a full Thanksgiving meal, but having a cookie in your hand might make you slightly more patient as you wait in line for the best deals of the year. And, before you fuel up at 4 p.m., Walmart the store will be open on Thanksgiving day (24/7 for superstores, and 6. a.m. for others), a Walmart rep tells Romper over the phone. So if you wanted to, you could basically spend your whole Thanksgiving day at the retail chain, but your shopping cart won't get those Black Friday prices unless you check out after 6 p.m. If you're waiting until Friday to shop, then call your local store, but they will likely observe their regular hours, and of course you can expect Supercenters to be open 24/7 as usual.
Walmart is really going out of its way to make the Black Friday shopping experience as positive as possible with things like the cookie party, as well as special Black Friday maps on the Walmart app that will help you navigate your way through the retailer based on the how the sales are stationed. I'm sure the stores will still be pretty intense on Thanksgiving and Black Friday, but at least the hundreds of shoppers might be running towards their intended purchases in a more orderly fashion if they've got a map to guide them.