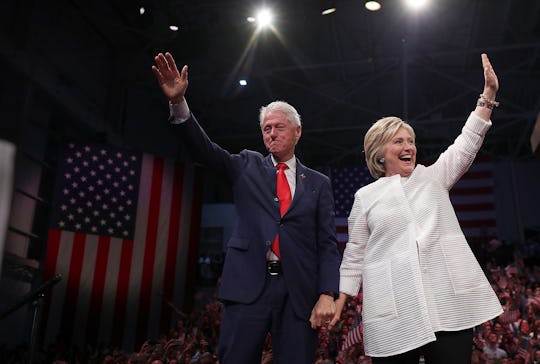 Justin Sullivan/Getty Images News/Getty Images
What Time Will Bill Clinton Speak At The DNC? He'll Address The Nation On Tuesday
Bill Clinton accepted his party's nomination for president in both 1992 and 1996, but his speech at 2016's Democratic National Convention will focus on his wife instead. Presumptive nominee Hillary Clinton is positioned to do what her husband has done twice before, and the former First Lady and Secretary of State is gearing up for own four-day affair in Philadelphia, Pennsylvania, July 25-28. Although he's been a largely behind-the-scenes presence during his wife's campaign, the former president will emerge into the limelight on night number two, so you'll definitely want to know what time Bill Clinton will speak at the DNC. After all, she's polling to become the first woman, president, making them the ultimate, unprecedented power couple.
Unfortunately for those political aficionados who like to keep to a strict schedule, the Democrats haven't specified exactly what time Bill will take the stage, and they likely wont. What we do know is that on day two the the convention, Tuesday, July 26, will kick off at 4 p.m. Themed "A Lifetime Of Fighting For Children And Families," it will feature Bill Clinton along with the "Mothers of the Movement" whose children — among them Trayvon Martin, Michael Brown, and Eric Garner — were killed as a result of either police brutality or gun violence.
Bill Clinton is certainly not the only political heavyweight slated to speak at the convention. On Wednesday, President Barack Obama will address the nation that has called him Commander-in-Chief since 2009, and his VP Joe Biden will do so as well, both under the auspices of the theme "Working Together."
But Americans will especially interested to observe the dynamic playing out when one former president addresses his former constituency as his wife moves ever closer to stepping into his onetime role. Because he's a polished, experienced politician, Clinton's speech is unlikely introduce a similar snafu to the one Melania Trump's did at the Republican National Convention last week, when the Trump campaign eventually admitted that two paragraphs were inadvertently plagiarized from Michelle Obama's 2008 convention address.
But although he's widely praised as a superb orator, Bill Clinton isn't always the picture of poise at the podium. In April, his harsh response to Black Lives Matter hecklers about his 1994 crime bill drew criticism from both the left and the right, and may have contributed his diminished public presence on the campaign trail.
Bill Clinton does, however, clearly have a place in his wife's potential administration: She told reporters at a Kentucky campaign stop in May, according to The Guardian, that she'd like for him to take on the task of "revitalizing the economy." He'll likely deflect the focus from himself and onto the presumptive Democratic nominee during his speech, though, enumerating on her qualifications and vision for the highest office.
Voters to make sure they catch it can tune into any major news network, or stream it all online. Considering the spate of speakers from "Mothers of the Movement" whose speeches will likely precede Clinton's, viewers may just want to watch the entire thing.