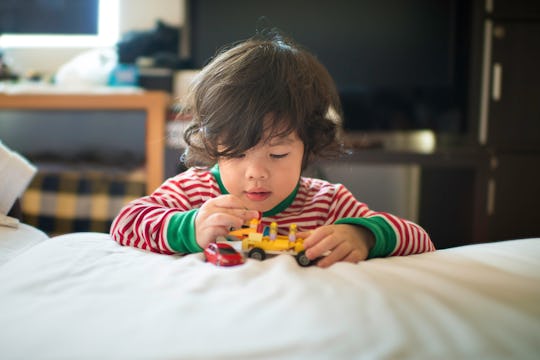 Shutterstock
These 10 Holiday Card Messages Tell It Like It Is When You Have A Toddler
Let's be real: Christmas with a toddler is basically like any other day for parents. There will be wild joy, and explosive tantrums, and random bits of chewed-up chicken found in strange places. The main difference is that all of this merriment will transpire with everyone clad in exceptionally cute pajamas. But when it comes to the question of what write to in a holiday card when you're the parent of a toddler, you might find that the usual sentiments don't quite capture this unique experience.
Now, you may newly be the parent of a toddler. You may be filled with excitement, wondering what the holiday will hold, now that have a child who is able to walk, and babble, and throw delicate glass heirloom ornaments. If so, allow me to offer a loose outline of what you may expect from this wonder-filled day:
4:06 a.m.: Wake up in pitch black darkness to open presents.
4:10 a.m.: Complete opening of presents.
4:11 a.m.: Find way to fill rest of day. Which will last approximately 900 hours.
4:15 a.m.: Clean up broken ornaments.
5:01 a.m.: Repeatedly lose the screwdriver. Pray for dusk. Repeat for hours and hours.
Now, go pour yourself a spiked eggnog and get those holiday cards in the mail. (No, I don't know where the pen went. But my guess is someone is using it to draw smileys on the couch cushions.)