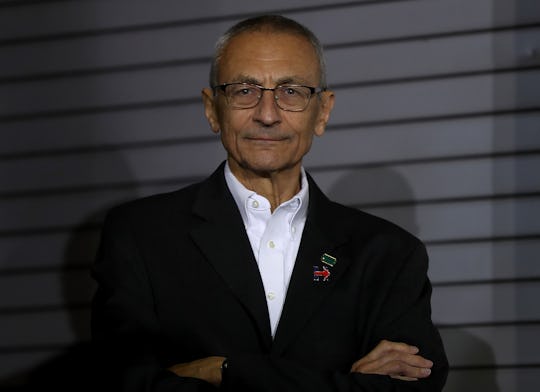 Justin Sullivan/Getty Images News/Getty Images
What Will John Podesta Do If Hillary Clinton Wins? Her Campaign Chairman Deserves A Nap
You don't become president of the United States of America without a team of highly skilled operatives and Washington elites in your corner. And with Hillary Clinton on the verge of doing just that, the Democratic nominee is undoubtedly determining which of her closest campaign advisers and confidantes she'll want on her staff as she transitions into the White House. Near the top of that list is surely her campaign chairman, John Podesta. But this Washington veteran has already made it clear he doesn't want to take on the grueling role of Chief of Staff, so, as with the definitive outcome of this election, exactly what will John Podesta do if Hillary Clinton wins the election on Nov. 8 is still up in the air.
The answer to that won't be totally clear until after the polls close on Tuesday, and the next phase begins. But Podesta is, without a doubt, one of the most influential Democratic operatives in Washington, having worked as Chief of Staff for both President Obama and President Bill Clinton. And having joined in on Hillary Clinton's own political aspirations before her first presidential run of 2008, Podesta is now "the man behind the Clinton campaign curtain," as reporter Jay Newton-Small described him in a TIME magazine profile of him from earlier this year, and therefore the man that everyone will be looking to — even if they aren't looking to recruit him for a job themselves.
"He's John Podesta, you just do what he says," campaign manager Robby Mook said, a testament to Podesta's clout in the campaign as he's shaped Clinton's messaging to make her attractive to as many voters as possible and worked to control controversies that have dogged her, such as her use of a private email server when she was Secretary of State between 2009 and 2013 — a scandal that continued to unfold, even days before Americans head to the voting booths.
But Podesta's position of power and closeness to Clinton has also made him a target, and the online publishing platform WikiLeaks has been publishing alleged hacked emails from Podesta's account incrementally for weeks. The contents of these correspondences have not birthed any new controversies or revealed any explosive information, but the headache this has undoubtedly caused the campaign chairman as he ushers his candidate through to the end of this brutal campaign cycle has to have been significant. Which is one of the many reasons why what John Podesta really has earned after Election Day, win or lose, is a nap, and maybe even a day at the spa as well.
It's more likely, though, that he'll stay on board with Clinton in some capacity if the presidential bid he's been instrumental in orchestrating is ultimately successful (and most of the polls indicate that it will be). Politico's Tomasz Walenta reported that Podesta is interested in a cabinet job in a potential Clinton administration, and that's he's eyeing a gig like energy secretary over Chief of Staff, which demands 12-hour workdays and seven-day work weeks. Chances are high, though, that Clinton will try to persuade him to help oversee her transition into the Oval Office.
Simply put, it seems as though Podesta will have his pick of high-powered roles if and when his current boss assumes the title of Madame President. How much more of his life he's willing to devote to the cause remains to be seen.