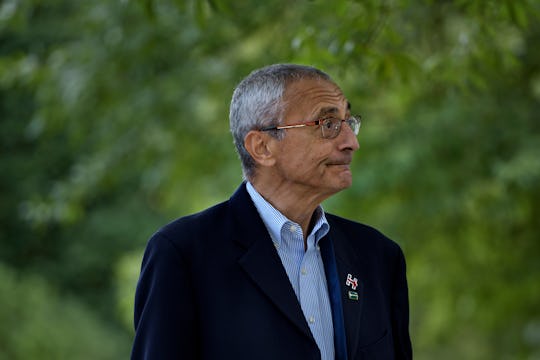 BRENDAN SMIALOWSKI/AFP/Getty Images
Will John Podesta Resign? Clinton's Campaign Chairman Has Come Under Heavy Criticism
At this time next week, the American people will finally know which presidential candidate has secured the Oval Office. If that's a major relief for you and me, then it will certainly be an occasion for a huge collective exhale from those who have worked within both Hillary Clinton's and Donald Trump's inner circles during this relentless, vitriolic campaign cycle. Even with just days to go, though, the website WikiLeaks continues to publish alleged emails from Clinton's campaign chairman, John Podesta, laying bare his private communications and revealing the inner workings of the presidential bid he helped to launch and cultivate. But Podesta likely won't resign, even though the Russian hackers believed to be responsible for stealing his alleged emails undoubtedly aim to incite such a shakeup to favor Clinton's most formidable opponent, Trump.
WikiLeaks has been incrementally publicizing emails addressed to and from Podesta, who previously served as Chief of Staff to both Barack Obama and Bill Clinton, throughout October. The emails themselves have not generated any new controversies, as Vox pointed out last month, but they have in some cases worked to bolster existing unfavorable storylines for the campaign: that donors to the embattled Clinton Foundation may have sought favors from then-Secretary of State, and that Clinton's relationship with big banks is a little too friendly.
Despite the public dissection of the thousands upon thousands of private correspondences suddenly made public, Podesta has not at all receded from the campaign's center on its final stretch, nor has Clinton given any indication that he's a hindrance or a liability simply because he sent some emails that have since been stolen. That's unlikely to change for the trusted Clinton advisor, even after the most recent batch of emails revealed he receives a $7,000 paycheck each month month to advise a top Clinton donor on the functioning of his own charitable foundation. Politico described the arrangement between real estate billionaire Herb Sandler and Podesta as "unusual" — though by no means illegal or even legally dubious.
Sandler himself told Politico that his professional relationship with Podesta — whom the Clinton campaign does not pay a salary — does not present a conflict of interest in the slightest. "I have never asked for anything of any political person — zero requests ever," he said.
Romper reached out to the Clinton campaign for comment about the emails but did not immediately hear back.
More than they have hurt Hillary Clinton's campaign, the Podesta emails have provided a more nuanced view of the man himself (like the fact that he's very interested in UFOs) and offered unprecedented insight on the campaign itself, such as the fact that Clinton's staff has actually acknowledged and discussed her potential weaknesses as a candidate (shocker!).
In fact, the Podesta situation is nothing compared Clinton's other, recently revived email-related scandal, and Podesta came down hard on FBI director James Comey for announcing last week that the Bureau may have discovered more emails that are possibly related to the closed investigation into the private server Clinton used while Secretary of State. In a statement he issued shortly after the FBI announced via letter to Congress that it had discovered these emails on a computer shared by another close Clinton aide, Huma Abedin, and her husband, Anthony Weiner (uncovered during an investigation into Weiner's alleged sexting relationship with a minor), Podesta wrote, in part:
FBI Director Comey should immediately provide the American public more information than is contained in the letter he sent to eight Republican committee chairmen. Already, we have seen characterizations that the FBI is "reopening" an investigation but Comey's words do not match that characterization. Director Comey's letter refers to emails that have come to light in an unrelated case, but we have no idea what those emails are and the Director himself notes they may not even be significant.
Despite the unwelcome connection between Abedin and her husband's ongoing sexting scandals, and the new, bizarre connection to Clinton's campaign, Abedin isn't going anywhere. That's because, like Podesta, she's a integral part of the Clinton apparatus and a close confidant of the possible 45th president. It seems that the recent, unfortunate rough patches largely out of their control aren't going to change that for the two aides either.