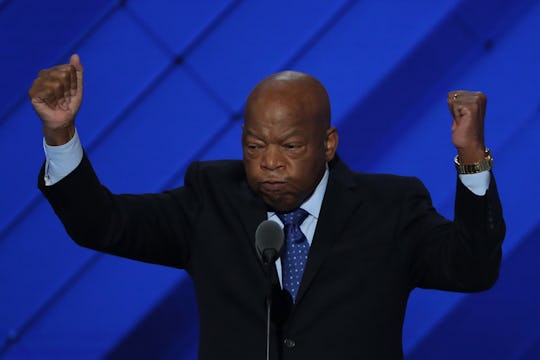 Alex Wong/Getty Images News/Getty Images
What You Should Know About The Gun Vote That Never Happened
It's been three months since a gunman murdered 49 people at a gay night club in Orlando — a devastating mass shooting that was the most immediate impetus for Democratic lawmakers' staging both a sit-in on the House floor as well as a Senate filibuster to try to force a vote on gun safety measures. Much to gun-control advocates' chagrin, these efforts yielded no legislative changes. On Wednesday, House Democrats implored House leadership to grant the entity a vote. House Speaker Paul Ryan refused, and the situation is reminiscent of yet another gun vote that never happened earlier in the summer, when Ryan promised to "get it right" when it came to passing gun legislation.
Just as he was in June, iconic civil rights leader Rep. John Lewis is at the helm of the movement to compel Ryan, a Republican, to permit a vote on bills that would expand background checks for gun sales and prevent suspected terrorists from traveling on commercial airplanes. "Mr. Speaker, what would it take for Congress to act?" Lewis said before the House Wednesday, according a video recorded at the session. "How many more must suffer? How many more must die? How many more little children must die? How many more mothers and fathers will mourn the lost of a child?"
These are questions he and his colleagues asked when they performed a nearly 26-hour sit-in in June, and they did not succeed in securing a vote. They're questions that Connecticut Sen. Chris Murphy echoed during his 15-hour filibuster before the Senate, a stunt that resulted in the Senate voting on — and ultimately rejecting — a series of Democratic-endorsed proposals and Republican-backed counterproposals. The measures conservatives championed would have required more mental health information to be available in national databases, and it would have delayed gun sales to people on a government terrorist watch list.
Generally speaking, Republicans believed that the Democrats' proposals denied Americans their due process rights, and Democrats' felt that their Republican counterparts' ideas did not go far enough.
In the midst of this partisan back-and-forth, Ryan also refused a vote on similar gun legislation he had pledged to bring to the floor in July. That month, shortly after the sit-in and the filibuster, Ryan backed out of plans to bring a vote on a bill that would "allow the government to block the sale or transfer of a gun if officials demonstrated to a judge within a few days that the buyer might have links to terrorism," Emmarie Huetteman of The New York Times wrote July 6.
"We have members from both sides of the aisle who want to make improvements, who want to make changes to the bill," Ryan told reporters at the time. "We want to make sure we get it right."
In fact, the proposed legislation was unpopular on both sides of the aisle. Most House Democrats opposed it, believing that it would not actually make Americans any safer. And Republican Rep. Justin Amash lambasted it as "egregious" and expressed concern about its potential ability to allow the government to halt gun sales based on crime that have not yet been committed, The New York Times reported.
Once again, a failure in consensus-building and an inability to compromise had left Americans without any real solutions to address the massive national scourge of mass shootings plaguing our nation, according to the Los Angeles Times. Instead of concentrating on crafting a bill on which lawmakers from both parties could reasonably agree, Ryan has threatened to sanction Democrats for their sit-in, which was against House rules. But he's also verbally committed to seeking wider agreements to begin rectifying the issues associated with the ready availability of potentially deadly weapons in this country. As the episodes in June, July, and now September demonstrate, our government is not quite there yet.