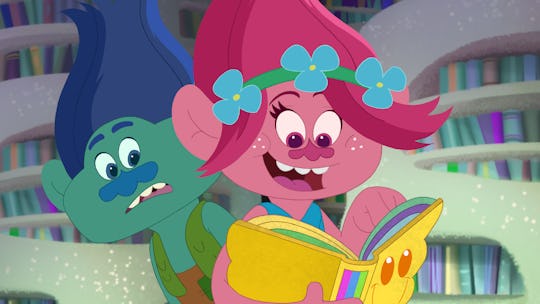 Netflix
More Episodes Of The 'Trolls' Netflix Series Could Be Coming Your Way
The small screen spin-off series from the ever popular Trolls movie has probably already been watched in your home no less than a dozen times. (But to be fair, only six episodes have been released so far.) With such little content, obviously fans are going to be clamoring for more, and by fans I mean everyone's kid under 10. So when does Trolls: The Beat Goes On Season 2 premiere? The troll-tastic fun is only just getting started with the series, especially since it looks like Season 1 was meant to be a shorter teaser trailer.
Skylar Astin, who voices Branch, tweeted about the new series before it premiered and announced that "The first 7 episodes of "@Trolls: The Beat Goes On" will be up on @netflix Friday January 19th!" Of course it was only the first six episodes of the series that were added to Netflix on January 19, but it seems as though the first season was always meant to be shorter, which can only mean that Season 2 of Trolls: The Beat Goes On will be released sooner than later. Although there hasn't been an official premiere date announced by the streaming platform, the show's Wikipedia page lists the very specific date of March 9, 2018, which falls on a Friday as all Netflix premieres tend to do, so I wouldn't totally count out the possibility.
First, it's important to establish that there will even be a second season. While neither DreamWorks nor Netflix has released any announcement to give young fans some hope while they power through those first six episodes yet again, TheRockFather.com reported that they received confirmation that there will be a Season 2 of Trolls: The Beat Goes On. And since the show's first season was so short, it makes sense then for Wikipedia's claims of a 26-episode Season 2 to be the real deal. This is especially true if the goal with Season 1 was to simply get the show out there to allow fans to familiarize themselves with it and leave them wanting more. Think of it as a soft opening for a store, with the grand opening potentially being on March 9.
Depending on the program, Netflix is no stranger to releasing seasons on a somewhat unpredictable schedule. Take Fuller House, for example, which had an unorthodox Season 3 release broken up into two parts that premiered less than a year from one another. And then there's Spirit Riding Free, which premiered in May 2017, then had a Season 2 premiere in September of the same year, and a third season began that November.
Keeping that in mind, it's definitely possible that Season 2 will premiere in March. Bonus points for it being less than two months after the show's first season dropped and after the soundtrack for Trolls: The Beat Goes On was released.
The animated series itself is comprised of easy to watch 23-minute episodes that each feature two 11-minute stories about the trolls, bergens, and the world that was created when the movie was released in 2016. Like the movie, there are the characters that fans have come to know and love. Even if most of the voices are a little different, there's still the fun of being able to sing along with your favorite troll while inadvertently learning a lesson about feelings or sharing.
Until Trolls: The Beat Goes On Season 2 premieres, you can at least rewatch some of the troll fun while memorizing every word to the soundtrack, much like I'm sure you did with the original movie. Only this time, you at least have the hope of a potential two dozen new episodes to look forward to once Season 2 premieres. And if it happens to be another six, that's still better than nothing, right? If the March release date is to be believed, it will be here before you can say "It's Trollstice" in your best baby Gristle impersonation.
Check out Romper's new video series, Romper's Doula Diaries:
Watch full episodes of Romper's Doula Diaries on Facebook Watch.