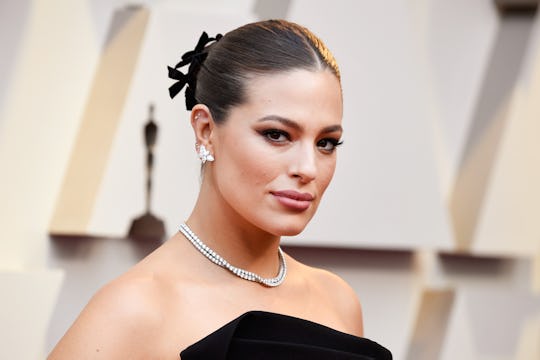 Frazer Harrison/Getty Images Entertainment/Getty Images
Ashley Graham's Due Date With Her First Child — A Baby Boy! — Is Quickly Approaching
Over the summer, model and body positivity icon Ashley Graham announced the happy news that she's expecting her first child with her husband of nearly a decade, Justin Ervin. Since then, the expectant mom has revealed several exciting details, such as the sex of her baby-to-be, her struggles with maternity leggings, as well as her pregnancy cravings. But perhaps the most exciting tidbit is that Ashley Graham has also revealed her due date and it looks like next month will be a very exciting time for the parents-to-be.
Back in August, Graham announced her pregnancy news via a sweet Instagram video with Ervin on their anniversary, zooming the camera's focus outward until her bump entered the frame. "Nine years ago today, I married the love of my life," Graham captioned the adorable video. "It has been the best journey with my favorite person in the world! Today, we are feeling so blessed, grateful and excited to celebrate with our GROWING FAMILY!"
A few months later, Graham visited Ellen DeGeneres and not only did she reveal the sex of her first child — she's having a boy! — but she also shared when she's due. During her November appearance on the talkshow, DeGeneres asked Graham "when is the baby supposed to happen."
"January sometime," Graham replied. "But they say it can come early, it could come late, I don't know." Although the expectant mom didn't reveal her specific due date, she did share that it's "a little before" DeGeneres' birthday on Jan. 26. DeGeneres, however, hilariously suggested that Graham "could try to hold it in" so she and Graham's baby boy will have the same birthday.
It's probably safe to assume that Graham won't take that advice. Either way, though, it sounds like Graham and Ervin's baby boy will be here in a just a matter of weeks!
Since revealing her due date in early November, Graham has kept busy with work and has already celebrated her baby shower. "Feeling so blessed to have such a strong support system in our lives," she captioned photos from her party in New York City on Instagram. "Thank you to everyone who came together to celebrate our baby boy! I've never had so many hands on my belly and I LOVE IT!"
Throughout her pregnancy, Graham has been candid with her followers on social media and has often celebrated her growing, changing pregnant body. In August, for example, Graham shared a photo of her pregnancy bump and stretch marks shortly after announcing her pregnancy, with the caption: "same same but a little different."
Graham's followers instantly praised her "very real" photo. As one follower commented, "I struggle with loving and accepting my mom bod everyday. Love that you are keeping it real! There is beauty in the scars."
A few months later, during an episode of Fearless with Ashley Graham, the model opened up about why she decided to share the photo. As People reported in November, Graham shared, through tears, that she was feeling "terrible" about her "new body" at the time, but wanted to "have a dialogue" with other women who are going through "the same thing."
Since then, she's done just that. Graham has touched on the struggles of growing out of your "pregnant pants," her newfound love for naps, and has gotten real about her pregnancy cravings. "Feed me all the cravings, literally every emoji except missing cantaloupe!" she captioned a photo of her posing with her bump, adding the corn on the cob, salad, honey, donut, cucumber, coffee, and strawberry emoji.
At this point, January is just around the corner, so hopefully Graham and Ervin are getting lots of relaxation in until their baby boy arrives next month and they officially become a family of three.
This article was originally published on