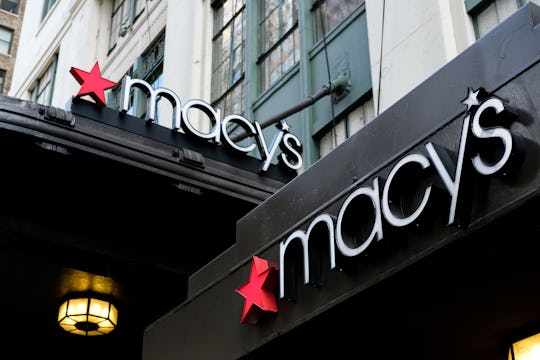 Drew Angerer/Getty Images News/Getty Images
OMG Macy's Is Giving Away Crock-Pots, Pearl Earrings, & More On Black Friday
If your Thanksgiving weekend plans include not only the big meal and the football games, but also a pre-dawn trip to the mall to check out the Black Friday sales, you probably have Macy's on your list — the store we most associate with Turkey Day. But since different retailers have different store hours, you'll want to know: When is Macy's open on Black Friday this year? It pays to know these things, so you don't end up waiting in a huge line for one store to open when there's another one already ringing up customers.
As reported by USA Today and confirmed by BestBlackFriday, Macy's will open at 6 a.m. on Black Friday and stay up and running until 10 p.m. That's the same schedule that stores like Ulta and Kmart are keeping; plus, it's a little earlier than Target, which is opening at 7 a.m., and Best Buy, which is opening at a relatively late 8 a.m.
But hang on — there's even better news for early birds. In addition to their Black Friday hours, Macy's will be opening at 5 p.m. on Thanksgiving Day itself and staying open straight through 2 a.m. Yep, that's 2 a.m. So you could savor your holiday feast, wash the dishes, put the kids to bed, watch a couple of Hallmark Christmas movies, and still get to the store in plenty of time to snag some sweet deals. Depending on your timing, it might not even be too ridiculously crowded if you get to Macy's by midnight or so.
But if you know you'll be in too much of a dreamy turkey-and-pie coma to venture out after dinner on Thanksgiving, you'll be rewarded nicely for getting up in the dark to make it to Macy's before the doors open the next day. The retailer is enticing early shoppers with plenty of Black Friday deals, according to BestBlackFriday, including 12 crave-worthy items that are totally free (after rebate), from Mickey & Minnie plush dolls to slow-cookers to pearl earrings.
The freebies have restrictions, of course: They're available only in-store (so don't try finding the deals online), only until 1 p.m. Friday, and only with a mail-in rebate, so you'll still have to pay at the store and get your money back after you send in the rebate form. Still, even if you miss out on the rebate offer, the doorbuster sale prices are still pretty awesome: $10 gets you a 1.5 quart Bella slow cooker, fashion tote bags, a bottle of Giorgio Glam perfume, or a set of Martha Stewart glassware, among other things.
Other Macy's Black Friday sale items worth putting on your list include a KitchenAid stand mixer for $190 (41 percent off its retail price), men's Alfani Chukka boots for $36 (normally $60), a Nautica women's peacoat for $90 (60 percent off retail), and a $160 Kenneth Cole luggage set that normally sells for $720. And if you want to go totally holiday-adorable, Macy's has its own line of matching family pajamas at 40 percent off; you can even get jammies for the dog. Might as well open your Instagram page now.
It wasn't all that long ago that Macy's used to stay shuttered on Turkey Day, along with most other retailers. As I recall, they even used to run full-page newspaper ads declaring that their employees deserved a day off to be with their families (excluding the workers who marched in the Thanksgiving Day Parade, presumably). But, according to Fortune, the lure of additional profits was too much to resist, and in 2013, the store we associate with this holiday became one of many to open up to Thanksgiving customers who were as hungry for bargains as for pumpkin pie.
So whether you're a crack-of-dawn Black Friday shopper or a late-night Thanksgiving bargain-hunter, you'll find plenty to fill your bags at Macy's this holiday weekend.
Season 2 of Doula Diaries shares the stories of fearless doulas helping their clients take control of their births and make tough choices that feel right to them. Watch the first episode of the new season Monday, November 26th.