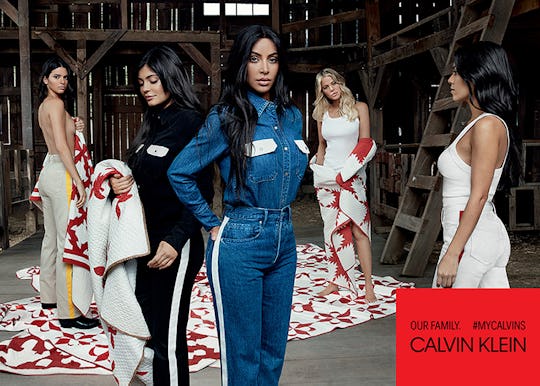 Courtesy of 2018 Willy Vanderperre
Here's When The Kardashian Calvin Klein Ad Was Actually Shot
It might be a time of big changes for the Kardashian-Jenner clan — Kim recently welcomed her third child with Kanye West via surrogate, while Khloé is preparing to welcome her first baby with partner Tristan Thompson in the coming months — but that doesn't mean they've put their family work commitments on hold. On Monday, Calvin Klein revealed a series of ads featuring the famous siblings as part of the brand's "Our Family" campaign, and it's led to many questions about youngest sister Kylie's still-unconfirmed pregnancy. When was the Kardashian Calvin Klein ad shot? The photos were taken in October 2017, according to E! News, which makes sense given that Khloé doesn't appear visibly pregnant at all in the ads. But fans quickly noticed that Kylie is the only sister who remains covered up in almost all of the shots, suggesting that she could be hiding signs of a baby bump — and that the photos could mean she's due really soon.
In the pics, the sisters posed together in Calvin Klein underwear, and as a result, they all naturally end up showing a fair bit of skin. All except for Kylie, that is: in one shot, she appears covered up in a quilt, while in another she appears to be hiding behind Khloé, who is dressed in a bra and underwear. In another photo, she is fully dressed, with a carefully-placed blanket hiding her belly, and in another, she doesn't actually appear at all.
Since Kylie hasn't actually commented on reports of her pregnancy, Kardashian fans have been on the hunt for any type of clue that might confirm or deny the rumors ever since they first surfaced in September. That's led to some seriously crazy theories (many Twitter users seem convinced that Kylie was actually Kim's surrogate), and in November, Kylie took to social media to criticize paparazzi photos claiming to show her growing baby bump by arguing that the photos had been photoshopped.
That didn't do much to stop the speculation though, and now that the Calvin Klein ads are out? Social media seems certain that Kylie definitely has something to hide.
And in a video clip accompanying the shots, Kylie's belly is — surprise, surprise — also under wraps:
Of course, if Kylie is in fact hiding a visible baby bump in the pics, then it means she is likely already pretty far along. While Khloé would have still been in the early stage of her pregnancy in October (in late December she revealed that she was around six months along, according to Us Weekly), Kylie seems to have already been at the point where her pregnancy was obvious, meaning her due date has to be soon (if she hasn't already secretly given birth!). And if recent paparazzi photos are to be believed, she definitely seems to be sporting a pretty large bump — though fans have theorized the photos could easily be fake, especially given the lengths she seems to have gone to keep her pregnancy under wraps.
As much as the Calvin Klein photos seem to be confirming Kylie's pregnancy, the truth is that they're just not denying it, and without an official statement from Kylie, no one can really say for sure.
One thing that does at least seem certain though? The Calvin Klein campaign definitely hasn't helped take the spotlight off of the youngest Kardashian-Jenner sibling, since the photos have just added more fuel to the ongoing "is-she-isn't-she" speculation. And if she does want to keep her pregnancy a secret — she is only 20 years old after all, and no one, regardless of their age, should feel obligated to share their pregnancy with the world — that must be pretty stressful.
Check out Romper's new video series, Romper's Doula Diaries:
Watch full episodes of Romper's Doula Diaries on Facebook Watch.